Bahria Town Karachi Imposes Some Additional Development Charges on Residential Plots- Latest Details
by UPN
January 15, 2020
0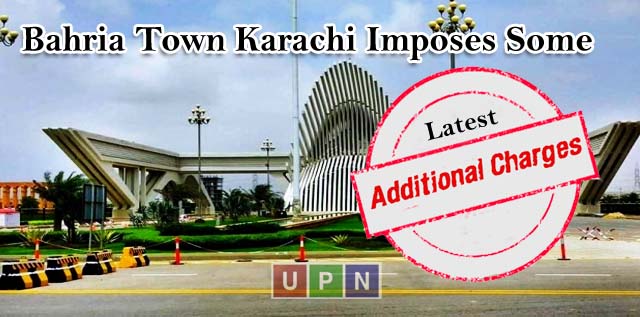 Imposes Some Additional Development Charges
The year 2020 came with a great surprise of Bahria Town Peshawar's Development, but also with shock for plot owners in Bahria Town Karachi. It brings a shock as Bahria Town Private Limited has recently announced some additional development charges on the old properties.
After imposing the plenty of 1 lac for not applying for the possession, further, the administration has imposed some additional development charges on old bookings.
Yes, Bahria Town Karachi has recently announced a policy of 35% additional development charges on all the properties booked before February 2014. These charges are announced to impose on all the old plots, apartments, homes, and villas. In other words, all these additional charges were announced for the very first bookings of properties in Bahria Town Karachi.
35% Additional Development Charges
No doubt, the announcement of all these additional development charges has created an uproar on Social Media. There was some rumors/news that Bahria Town has canceled all these additional charges or has changed their policy. However, the cancellation or any changes in the policy is not yet officially confirmed by the administration of Bahria Town.
Further, Bahria Town has imposed the additional development charges on the old bookings of residential plots.
These 35% additional development charges will be applicable from 15th of February, 2020, and the amount will be payable in 20 quarterly installments over a period of 5 years. The additional amount will show up in statements of all old properties from January 2020.
For example, if the booking price of 125 sq. yards residential plot was 17.25 lac, so additional development charges on it would be 603750/- (6 lac approximately). So, the quarterly installment of these charges was nearly 30,000 after every 3 months.
Moreover, the deadline given by Bahria Town to apply for possession is 15th January 2020.  After this deadline, Bahria Town will charge a penalty of 1 lac rupees per month for the next 3 months. After 3 months, Bahria Town will change the location of your plot to some non-developed property. They can also allot your developed plot to someone else who is eligible or paying for it.
So, we recommend you to apply for possession of your plots/villas/apartments before the given deadline in order to avoid any untoward consequences.
Bahria Town Karachi and Some New Policies
Bahria Town Karachi is no doubt, an appealing housing project that is offering unmatched facilities and features in it.
The society is designed will all the modern-day amenities that anyone can only dream in other housing projects.
It is true that some recently announced policies of Bahria Town May disturbed its clients or create some questions. But, Bahria Town has many times proved its care for its clients and residents. So, this time, we are also hoping for something best and satisfactory by the administration. We hope that all these issues will be resolved soon as according to the public demands.
For further details, do contact Universal Property Network!