Bahria Town Karachi Affectees and Best Solutions for Them
by UPN
June 29, 2020
0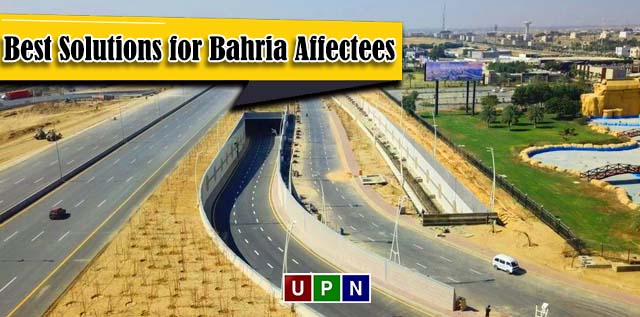 Different properties of Bahria Sports City and Bahria Paradise are not legally approved. Everyone is aware of these litigation and land issues, which are still pending to be resolved. Numbers of people have invested in these illegal/disputed properties and had got nothing in return. After waiting for long, many protests and announcements from Bahria Town, these affectees are still waiting for the best solutions.
Bahria Town is offering different options that an affectee can choose from. First is the refund of their payments. The second option is the selling of their files in the market. The third is the merging option. Despite all these solutions, Bahria Town Karachi affectees are not satisfied at all. They are still in search of the best solution with which they can get beneficial returns.
Today, in this latest blog, we will discuss all these possible solutions for the Bahria Town Karachi affectees.
Refund of Payments
Bahria Town Karachi announced a 100% refund policy in December 2019. This policy was announced for all the disputed/non-developed properties. However, this policy does not work as expected. Many of the members get their refunds, but a number of them are still waiting. Also, many other issues were there, which slow down this process of repayment. After facing so many backlashes, finally, Bahria Town has closed their refund counter. So, we can conclude that the option to get a refund is not workable as it seems.
Sell Your File and Invest Again
This option is also not good at all. For, e.g., if an investor had invested 60 lacs in a plot file. Now he will only get 30 to 35 lacs of it. So, selling your disputed/non-developed plot file in the market will be the wrong decision.
Merge Your Disputed Properties and Get Profitable Returns
The only best solution for the affectees of Bahria Town Karachi disputed/non-developed properties is merging. Yes, you can merge your disputed property in a completely legal and developing project by Private Builders. These projects are developing under the supervision of different private builders, but they have complete approval from Bahria Town.
Different options are available such as offices, shops, and apartments, which you can choose as per your requirement. Most of these projects are located on Main Jinnah Avenue. Some are developing on Theme Park Commercials, while many options are available at Midway Commercials.
By merging your disputed property in the other developing projects, you will not only get rid of these files but also earn profitable returns.
Also, it is important to mention here that your plot file's total amount will be shifted. Yes, a 100% amount will be adjusted in the properties available in different projects. If the amount of the property is more than the adjusted one, you can avail of the installments option. Other remaining amounts will be payable through easy installments. Some of the best listed private projects in Bahria Town Karachi that you can choose for the merging of your property are:
SQ Theme Park Tower
Jinnah Trade Centre
Empire Business Centre
Abu- Al –Qasim Commercial Plaza
Business Trade Centre
Al-Falah Tower
Diamond Homes
GM Icon or GM Towers
Dominion Twin Tower
Dominion Centre and Much More
Contact  Universal Property Network for further details!
Check out our site for more detail. Latest News