Low-Cost Apartments and Shops For Sale in Bahria Town Karachi
by UPN
June 29, 2020
0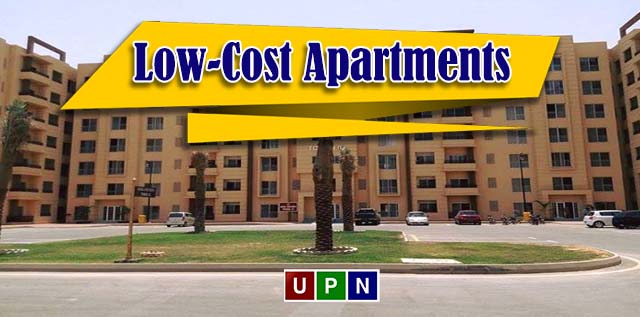 Bahria Town Karachi is now offering the best low-cost apartments and shops for sale in it. Different options are available where you can choose the beneficial properties on installments. However, the one ready project, highly attractive and ideally located, is Bahria Heights. Yes, by offering the appealing two-bedroom apartments for sale, it is one of the best-constructed property options in Bahria Town. Measuring an area of 1100 sq ft Bahria Heights 2 Bedroom apartments are attractive to live luxuriously.
Launch years ago, the development work of Bahria Heights was near completion. Comprising of total eight identical towers, Bahria Heights tower A and H are almost ready. Most of the Finishing work of these towers is also completed. So, the possession of Tower A and Tower H is expected to announce in the next couple of months. By analyzing the current development work progress, we assure you that soon it will be ready to live the area of Bahria Town.
Prices of Apartments in Bahria Heights
Launched at the price of 50 lacs on installments, now Bahria Heights are only available on full cash payment. The installment plan of this project is completed so far, but it is still an affordable constructed property for investors and end-users. The starting price of Bahria Heights 2 bedroom apartments for sale is 50 lacs to 70 lacs. The prices of these apartments are different as per the location. Apartments facing Main Jinnah Avenue are relatively expensive in comparison to the apartments in the inner circle.
Also, the prices of these apartments depend on the tower's development work. The prices of apartments in Tower A and H is around 55 lacs to 70 lacs. However, the same apartments in other towers will cost you around 50 lacs to 60 lacs.
Prices of Shops in Bahria Heights
Each tower of Bahria Heights is featuring some of the best shops in it. Located on the ground floor, these shops for sale in Bahria Town Karachi are best to invest in. Those desires to start their grocery or medical store or any other type of shop can easily choose them.
The low-cost shops for sale in Bahria Heights are available in two sizes 300 sq. ft. and 350 sq. ft. These shops were launched at the price of 66 lacs and 77 lacs respectively. However, now the shop of 300 sq. ft. will cost you around 78 lacs and a shop of 350 sq. ft. is available at the price of 89 lacs.
The prices of these shops are increased, and there is an own price of 10 lacs to 15 lacs on each. Also, the prices of these shops for sale in Bahria Heights depend on their location.
Stay connected to Universal Property Network for further details!
Check out our site for more detail. Latest News