Bahria Town Karachi Ali Block New Map Launched – Precinct 12 New Map
by UPN
August 9, 2018
0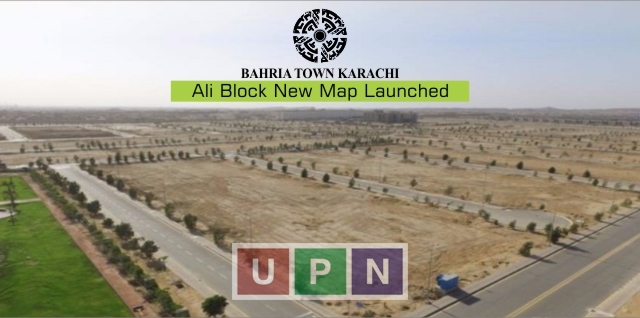 Ali Block (Precinct 12) has been favorite of buyers for being right at the center or Bahria Town Karachi. The fully developed 125 sq. yards plot are available in this precinct which are top priority of buyers. Being the first precinct to offer the least cutting of 125 sq. yards does add more attraction. Recently, Bahria Town Karachi launched new deal of Ali Block by re-launching its plots on cash payment at relatively economical price. It presents a great opportunity for those who could not buy these plots when they were officially offered first time. Bahria Town Karachi has now launched a new map of Ali Block after a few changes.
Ali Block (Precinct 12) New Map Launched
The new (revised) map of Ali Block (Precinct 12) has been released by Bahria Town Karachi after it re-launched around 400 plots. The new map is not much different from the previous one as the plots in new deal were actually the old ones up for new booking at lump sum payment. Still there are few considerable alterations have been done in the new map which deserves a mention here.
New Plots on Reserved/Available Spaces
Apart from re-launching those plots whose first owner could not continue payment plan, Bahria Town Karachi has utilized some reserved areas and available space to offer new ones. No new series has been given in the new layout or master plan but plots has been located with A, B, C D where space was available. For example 3321-A, 3321-B up to 3321-K which can be pinpointed on map by using the zoom tool.
Ali Block Plots – Ideal for Residency
Ali Block is ideal for residency right now as possession is available and construction of homes is allowed. Already some 50 to 60 houses are near completion so it's right now perfect for the end-user. Bahria Town Karachi offered these plots on cash payment because they want inhabitation in the block as soon as possible.
To buy a plot in Ali Block (New Deal), contact our realtors for consultation and complete guidance.
Sajid Awan: 03211126777
Umer Amin: 03211127771
Munir Ahmed: 03211167771
For more updates and information, keep visiting Universal Property Network (UPN).