Bahria Town Karachi New Deals of Midway Commercial Side A and Side B
by UPN
August 10, 2018
0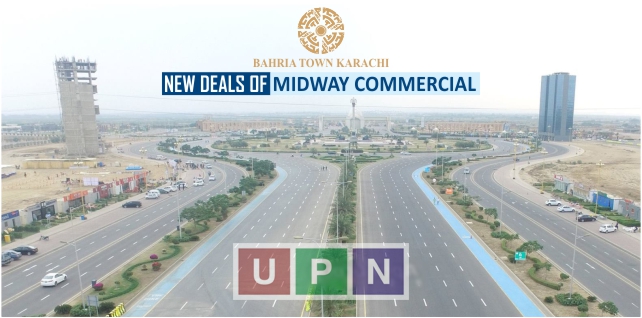 Bahria Town Karachi has recently launched some new deals of residential plots and apartments for its customers. In actual, these plots/apartments have been re-launched as the first owner could not pay installments. It includes new deals of Ali Block (Precinct 12), Precinct 1, Precinct 3 and Precinct 19 Apartments of 2-bedroom and 3-bedroom. As it was all about residential opportunities, Bahria Town Kaarchi doesn't want to overlook those who are willing to invest in its commercial plots. Bahria Town Karachi has launched a new deal which is a major opportunity for these prospective buyers.
Bahria Town Karachi – New Deals of Midway Commercial
Midway Commercial is considered to be a focal point of commercial opportunities and divided in two sides i-e Side A and Side B. Bahria Town Karachi has launched new deals of limited commercial plots in both sides. The location of Midway Commercial is ideal for commercial investment as Main Jinnah Avenue, Bahria Head Office and Cinema are located in its proximity.
Following are some key points about these new deals of Midway Commercial.
These plots of 125 sq. yards will be available on open forms and buyer won't have to pay any amount in account of transfer fee.
No tax or commission as payment (full payment on cash) will be done directly to Bahria Town Pvt. Ltd.
These are limited number of commercial plots which will be available with plot numbers.
It will be fully developed plots with possession where you can start construction right away after getting approval from Bahria Town Karachi.
New Deal of Midway Commercial Side A – Plots Prices
In Midway Commercial Side A new these plots of new deal are being offered at a price of Rs. 3.25 crore. The current market price of these plots are now touching Rs. 3.5 crore to Rs. 4 crore with respect to location. Keep this in view, the new deal plots are available at reduced prices which are quite reasonable so it is a good opportunity for commercial investment.
New Deal of Midway Commercial Side B – Plots Prices
The side B plots in this new deal are available at Rs. 3.75 crore instead of Rs. 4.5 crore to 6 crore which is a huge difference. Construction have been started here and the whole area will turn into biggest Commercial Avenue of Bahria Town Karachi with a number of commercial buildings.
Ideal for Commercial Investors
These new deal plots are available on relatively economical prices so commercial investors should avail these opportunities at their earliest. They can start construction and earn good rental income as offices will be high-on-demand here in future.
For more information and updates, keep visiting Universal Property Network (UPN).