Bahria Town Karachi New Deal in Ali Block – New Booking Announced – High ROI
by UPN
August 4, 2018
3 Comments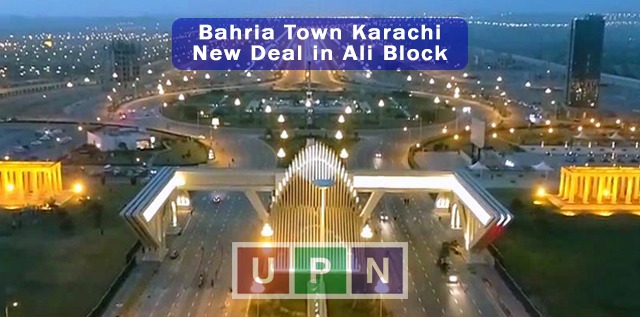 Bahria Town has become a major success in Karachi and the demand for plots & flats is never ending here. Investors who could not avail the chance to book earlier have been nagging the management to give them a new chance to invest. Rumors were out that the management of Bahria Town Karachi had been eyeing Ali Block of Precinct 12 as a starting point to adhere to the rising demands. Investors who had been lucky to get a file at the launch have already bagged in huge Returns on their Investments. Now new investors can rejoice because they also have got a chance.
Bahria Town Karachi New Deal in Ali Block – New Booking Announced
Bahria Town Management Karachi has announced a new deal. The chosen block is 'Ali Block' of precinct 12 that has now been awarded with a new deal of 125 Sq. Yards plots. These plots are exclusively available on full payment and which is around Rs. 44 Lakh. A new opportunity has been awarded to investors willing to invest in Ali Block Precinct 12 at investor rate. This is the right time to grab the opportunity to avail what you had missed earlier.
Importance of Ali Block in Precinct 12
Ali Block holds great importance in Precinct 12. Being located in the very start of the 125 Sq. Yards cutting, every important aspect of the society is within close proximity. The grand mosque which is one of the greatest attractions and a monument which will be visited 5 times a day is within walking distance of the said block.
Development Status of Ali Block Precinct 12
Development work is underway at rapid speed. All utilities have been provided to the block hence the New Deal announced by Bahria Town Karachi already has most of the utilities installed. When bought on cash, NOC can be applied immediately and possession will be handed in a couple of days as per policy.
As many successful owners of plots who have cleared all dues here have been handed over the keys by the management, we see a large number of residents already settled here. As more people are getting NOC from the management, we witness people migrating to their new homes. Since the block is getting rapidly populated, investing here is worth your money as the block is high in demand.
Universal Property Network Can Help You
We are authorized dealers of Bahria Town Karachi. Being actively working in the Pakistan real estate for the last 15 years we have credible reputation and hundreds of successful achievements. If you are interested to buy a plot in the New Deal of Ali Block Precinct 12, we are happy to guide you. You can contact us thru our website or you can also directly get in touch with us through our mobile numbers given below:
Munir Ahmed: +92-321-116-7771
Sajid Awan: +92-321-112-6777
Usman Butt: +92-321-119-7774