Bahria Town Karachi SOP for Construction of Houses – Latest Update
by UPN
February 15, 2018
6 Comments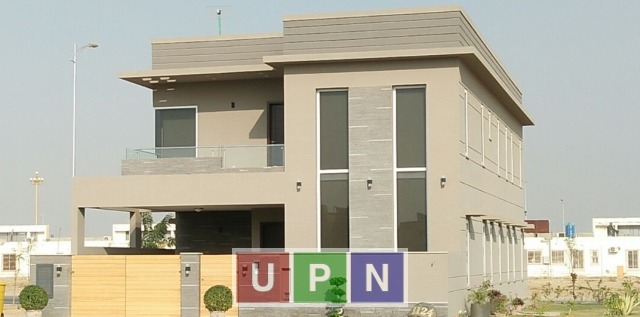 Bahria Town Karachi has issued Standing Operation Procedure (SOP) for construction of houses on all residential plots (125 Sq yards to 2000 sq yards). The society management has warned its clients and investors to strictly follow the building bye-laws and approved elevations as per design otherwise strict action will be taken against them. As a number of houses are under construction in Bahria Town Karachi and soon the count will increase, the following information and guidelines are very important which every owner and builder (investor) should keep in mind.
Bahria Town Karachi Construction SOP
Restriction for Front Elevations
Gate Design
Boundary Wall
Finishing Material
Aluminum/UPVC Frames for Windows for Facades
Floor Level (After Finishing) 2' – 0 from Road Level
Height of Building 30'
Porch Level = 8"
Porch Depth (Area Size) = Minimum 12' (Area shouldn't exceed 380 Sq ft)
Mumty (NOT Allowed)
Allowable Area With Respect To Dimensions & Plot Size
Category
125 Sq Yards

(25' x 45')

250 Sq Yards

(35' x 70')

500 Sq Yards

(50' x 90')

1000 Sq Yards
2000 Sq Yards
U.G.W.T
6' x 4' x 4'
7' x 5' x 6'
8' x 5' x 6'
8' x 5' x 7'
8' x 5' x 7'
O.H.W.T
5' x 4' x 4'
6' x 5' x 4'
7' x 5' x 4'
7' x 6' x 4'
7' x 6' x 4'
Front
5'-0"
5'-0"
10'-0"
15'-0"
15'-0"
Rear
3.5'-0"
7'-0"
7.5-0"
10'-0"
10'-0"
1-Side
–
5'-0"
7'-0"
7'-0"
7'-0"
2-Side
–
–
7'-0"
7'-0"
7'-0"
Area (%)
70%
65%
50%
50%
50%
 Instructions to Build a House in Bahria Town Karachi
Before construction of house, boundary wall should be to D.P.C level and owner/contractor must get it checked by Bahria Services.
There is a compulsion to contact Color Consultant in the Design Wing after plaster before the exterior finishes.
Client and Contractors are responsible for quality of concrete, curing of concrete plaster work, plinth protections and to stop ingress of water to foundation.
Only qualified engineers should be awarded with construction work.
The storm water drain of your house must not be connected with the sewerage system of Bahria Town.
For construction of commercial plots, Building Control Department, P & D Bahria Town Karachi has released SOP separately. We will keep you updated about current fee for construction approval and design for both residential and commercial plots.
To know about latest updates of real estate sector, please keep visiting Universal Property Network (UPN).