Bahria Town Karachi & Imtiaz Supermarket Signs a Contract to Open Its Flagship Hypermarket!
by UPN
January 22, 2020
0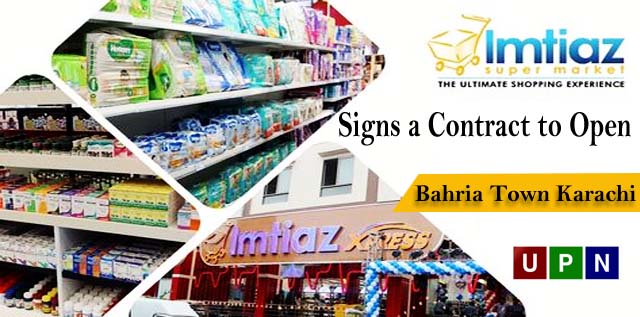 Imtiaz Super Market, the pioneer of Pakistan's Super Market trendsetters are now coming to your place at Bahria Town Karachi. Yes, Bahria Town Administration and Imtiaz Supermarket sign a contract to open its flagship store in Bahria Town.
It will be one of a kind designer Concept store soon opening in the mid- 2020.
This new flagship store by Imtiaz Supermarket will cater to the demand and facilitate the residents of Bahria Town Karachi and the nearby areas.
Now the residents of Bahria Town Karachi will enjoy the pleasure of joyful shopping at the discounted rates.
About Imtiaz Super Market
Imtiaz Supermarket is a venture of Mr. Hakim Khan Abbasi stepped on the ground in the year 1955. At first, it was a small store but later Mr. Imtiaz Hussain Abbasi joined in. Both of these partners turn this store into a market place that helps people to make their lifestyle better.
Now Imtiaz Super Market is a successful family-oriented market place in Pakistan. It is located majorly covering all areas of Pakistan. It's currently operating in almost 11 outlets located in all major areas such as Karachi, Gujranwala, and Faisalabad.
With the opening of Imtiaz Super Market in Bahria Town Karachi, they will start operations in their 12th outlet.
Imtiaz Super Market always offers a wide range of valuable items for the people of all age groups.
Further, all these products are remarkable in rates. That's why customers at Imtiaz love to visit their stores for the ultimate shopping experience.
Imtiaz Super Market In Bahria Town Karachi will Offer:
Frozen Items
Sporting Goods and Fitness Products
Electronics
Movies and Music
Home and Furniture
Home Improvements
Clothing
Footwear
Jewelry
Toys
Health and Beauty
Pet Supplies
Auto
Photo Finishing
Baby Care Section
Craft Supplies
Party Supplies
Grocery Items
Cosmetics
Medicines/Pharmacy
Opening Dates of Imitiaz Super Market in Bahria Town Karachi
An agreement is signed between Bahria Town Karachi and Imtiaz Super Market. The administration of this leading superstore has shared its plans to open this store as soon as possible.
However, they have announced to open this new flagship store of Imtiaz Super Market in the mid-2020.
It is expected that they will open the store for the general public in April or May 2020.
The exact location of Imtiaz Super Market is not yet disclose. But it is confirmed that the store will be located at the ideal location where more and more people can approach it easily.
For further details, stay connects to Universal Property Network!