Bahria Town Karachi New Deal in Precinct 3 an Ideal Investment Opportunity
by UPN
August 6, 2018
0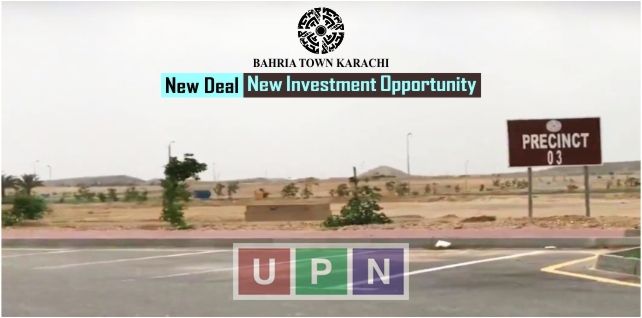 While some say Pakistan's real estate sector is going through a huge slump these months, Bahria Town seems to be in top gear attracting investors and buyers from all over the planet. While the society has been sold out completely, the demand for new investment opportunities is still on the rise. Investors who missed the chance earlier are optimistic the management will provide a new investment opportunity. Owing to huge public demand the management has recently announced and launched a 'New Deal'. The lucky precinct chosen this time is the Precinct 3 which is ideally located near the Main Entrance Gate.
Bahria Town Karachi – New Deal Launched in Precinct 3           
Precinct 3 holds great importance in the entire project as it is among the first precincts announced and planned. Being among the first ones, it is very near to the main gate of Bahria Town Karachi. The said precinct contains only 2000 Sq. Yards plots. It is exclusively designed for the elites, the rich and the powerful ones of Karachi. Being completely sold out, many people missed the chance earlier and the demand for more plots kept on getting higher. Owing to the high demand, the management has now introduced more plots that are available on the following terms (for complete terms kindly contact a relator).
P 3, 2000 Sq. Yards Plots Only
Immediate Possession
Complete Payment to be made in One Month
Direct Payment(s) to Bahria Town Karachi via Pay Order
Huge Chance for Non Filer can also buy
No Transfer Fee
Great Opportunity for Overseas Pakistanis, No Physical Appearance Required. Anyone can Buy on your Behalf
These are some of the main features that you should be aware to consider your investment options. The opportunity to buy without appearing physically gives overseas Pakistanis an edge to invest.
Bahria Town Karachi – Precinct 3 Attractions
The surroundings consist of Precinct 2 & Precinct 19 which are also 80% developed. Families that have completed construction after getting possession in the said precincts have already started living in their respective homes. Hence, it is not just a huge land anymore, as people have inhabited already. The main attractions adding value to Precinct 3 (within close proximity) are:
Main Gate of Bahria Town Karachi
Who Should Buy in Bahria Town Karachi Precinct 3
As it is a precinct that will have the elites living, it is ideal for constructing a luxury bungalow or a farmhouse. If you desire a palace like house, Precinct 3 is the place you should be considering to invest in. The 2000 Sq. Yards plots priced around Rs. 4 Crore plus profit are the biggest offered by Bahria Town Karachi.
As prices are fluctuating, we recommend you to contact one of our expert realtors before going ahead with the deal. We can guide you to a completely safe and best-located investment. You can contact us through our website or you can also directly reach our realtors by the phone numbers given below. You can also visit our offices for onsite visit and detailed information.
Munir Ahmed: +92-321-116-7771
Sajid Awan: +92-321-112-6777
Usman Butt: +92-321-119-7774