Bahria Town Karachi Precinct 17 Development Complete – Buying Opportunity
by UPN
August 10, 2018
0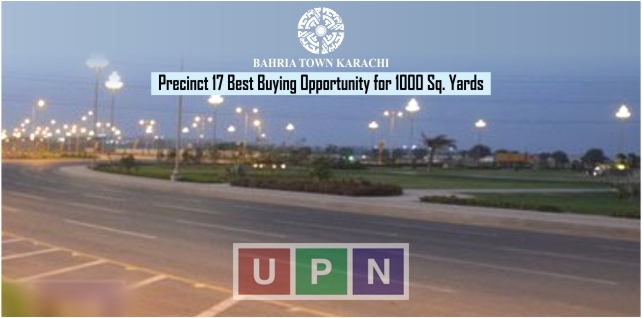 Bahria Town is well known for its exceptional living standards. Even the construction works here are beyond 'acceptable', they are of 'world class' standards. Bahria Town Karachi, is a project of the real estate tycoon Malik Riaz, who is famous and came to prominence after the huge success of Bahria Town Lahore. He is the first person who brought replicas of the wonder of the worlds to Pakistan. Bahria Town Lahore raised the bar for other developers and now constructing a housing scheme not only means to scatter plots here and there, Bahria management has shown that it is about proper planning and facilitating the buyers.
About Precinct 17 Bahria Town Karachi
Precinct 17 holds great value in the entire project. It is a mix of 500 Sq. Yards and 1000 Sq. Yards residential plots. Being located on the Main Jinnah Avenue, one can easily assume the importance given to the said precinct. The main Jinnah Avenue connects the entire scheme with the various landmarks and other attractions.
There are different parks and a masjid for the residents. An area within it is dedicated to for housing of Bahria Town's management staff. Although it has nothing to do with the public, but the addition of staff enclave will surely have a positive impact. A tower and different sizes of plots have been allocated to house their staff in Precinct 17.
Development Status of Precinct 17
The area chosen for the Precinct 17 is a hilly one. To provide the perfect plots without discrimination, the management had to work extra hard here. The small hills have been cut down to bring an equal elevation for the entire area. It was a challenging task for the management but as recent visit to the area, and by the announcement made by the management, the ground is now on equal level. Providing the underground utilities and laying down the carpeted roads is complete. It is now fit for rehabilitation and owners can now consider constructing their homes to move in.
Why you Should Consider Buying a Plot Here?
If you are looking to buy a new home in Karachi, then Precinct 17 of Bahria Town Karachi should be your first choice. The development works here are complete and you can easily buy a 1000 Sq. Yards plot here to build your dream villa. We say this is the perfect time to purchase your 1000 Sq. Yards plot here because:
Construction work is complete and prices are about to soar
There are a number of plots available on discount prices
Construction can begin the very moment you become owner of a plot here
You can build a beautiful home for your family in the best locality
Universal Property Network Property Purchasing Solutions
UPN is an authorized agent of Bahria Town all over Pakistan. We are a trusted organization actively working in the Pakistani real estate market for over 15 years now. We have a large score of happy customers who trust us because of our values and business ethics. We commit to only legal and achievable goals.
Universal Property Network can get you your dream plot in Bahria Town Karachi Precinct 17 in a legal manner with the least cost incurring during the process. If you are interested to buy a plot here, you can contact us on our given numbers on the website. Our team of expert realtors are completely knowledgeable of the rules, prices and processes of Bahria Town. We guarantee satisfactory investment at the lowest rates.