Bahria Town Karachi Precinct 2 Iqbal Villas Best Buy Option on Low Budget
by UPN
August 1, 2018
0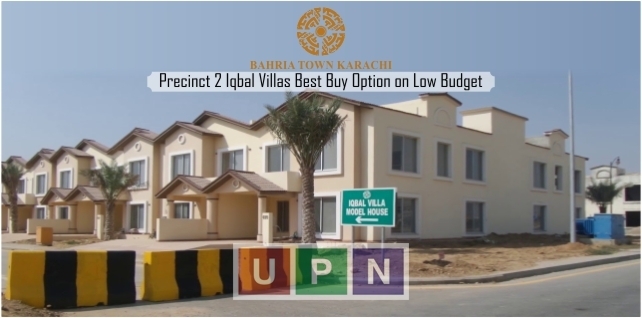 Owning a house in Bahria Town Karachi is a huge dream for the most of us. The esteem of living in one of the best housing societies of the city is incomparable to anywhere. Bahria is well known for its high standards, amazing atmosphere, beautiful sights and well-secured environment. It is designed for the elites from all walks of life featuring flats, houses, villas and farm houses. A city in itself, Bahria provides your peace of mind, a place where you can feel proud to provide shelter to your family. Your next investment should definitely be in Bahria Town.
Bahria Town Karachi – Precinct 2 a Lifestyle for Elites
Bahria Town Karachi is divided in various blocks known as Precincts. Hence, precinct 2 is one of its many blocks that has plots where you can construct a villa and Iqbal Villas lies in it. A villa is certainly the ideal choice for a family as there is nothing to share with others, you have the entire property to yourself. The only thing you share is the main road. For families having children, it is the ideal choice as your children get a lawn of their own where they can let their imaginations run wild and have little adventures of their own. Ideal for garden lovers as well where you can grow your own plants and flowers adding beauty to the interior.
Ideal Location within the Society
Now that you have planned to purchase a villa for your family, the first concern of every buyer is the location. Iqbal Villas are ideally placed inside the housing society. Here are some plus points to consider why we say it is in ideal location.
10 mins drive from the main gate. You are never far from the outside world. You get to avoid the extra travelling from within the society.
5 mins drive from the famous International Theme Park. Although every block has its own set of parks, but you are very near to the biggest attraction. It's never a hassle to take your family to the theme park where you can enjoy the most beautiful sights and atmosphere.
State of the art hospital equipped with the latest machinery, Begum Akhtar Rukhsana Memorial Hospital is just 5 mins walk from Iqbal Villas. Safety and medical care cannot be compromised on and it is a plus point that your home will be within walking distance to the only huge hospital in the society. It is fully functional now so you can visit it in case you need medical assistance.
Need to buy groceries or snacks? No problem the Bilal Departmental Sore can provide all that you need.
Iqbal Villas vs Quaid Villas – Size vs Amount
Iqbal Villas is a unique plan by Bahria Town Karachi and it has focused a lot on its front elevation so you can own one of the best-looking villa. In the surroundings is the Quaid Villas. Here is how we compare both.
| | | |
| --- | --- | --- |
| Features | Iqbal Villas | Quaid Villas |
| Size | 152 Sq. Yards | 200 Sq. Yards |
| Accommodation | 3 Bed | 3 Bed |
| Price | 1.25 Crore – 1.5 Crore | 1.7 Crore – 1.8 Crore |
| Payment Mode | Installments | Full Cash |
If you can compromise on 50 Sq. Yards then definitely go for Iqbal Villas. You can buy 200 Sq. Yards villa in Precincts 10 & 27 too.
Universal Property Network
We are the largest property network in Pakistan. We have offices in Lahore and Karachi. You can contact us thru our website or you can visit our offices. Our expert realtors and consultants can guide to the best investment options within your budget.