Bahria Town Karachi Precinct 6 and Precinct 8 – Construction of Homes Started
by UPN
July 17, 2018
0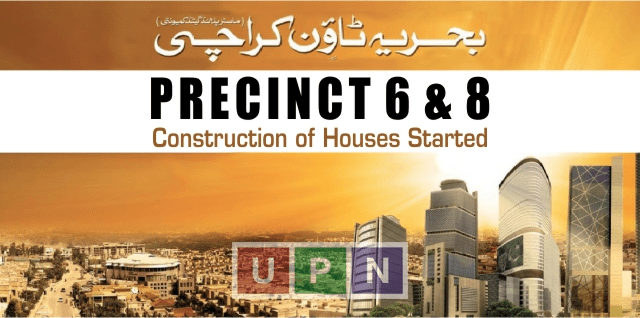 Bahria Town Karachi is now delivering as per commitments and being rapidly transformed into ready-to-live destination. Recently Bahria Homes Karachi balloting was held and all un-balloted files were allotted numbers as per promise. The inhabitation in this mega project is on the rise and it is a creating a positive impact overall for the neighboring precincts. Now the construction of homes has been started in Precinct 6 and Precinct 8 of Bahria Town Karachi which is great indicator for existing and future buyers as well as builders.
Bahria Town Karachi – Prime Location of Precinct 6 & Precinct 8
Before moving on to explain some other prospects of this recent development, prime location of Precinct 6 and Precinct 8 is worth mentioning here. At an adequate distance rather near to main entrance of Bahria Town Karachi, these two precincts have Midway Commercial, Bahria Town Head Office and attraction like Theme Park in the surroundings. However, Precinct 8 situated on a bit height from ground level but location prospects are the same Precinct 6.
Precinct 6 and Precinct 8 Plots & Construction
Precinct 6 and Precinct 8 only have 250 sq. yards plots cutting available which is second most sought-after plot size in Bahria Town Karachi. In both precincts, construction of only a few houses has commenced for now but it will definitely increase in future. The geographical importance will play a key role as villas/houses in thousands have been constructed by Bahria Town Karachi in Precinct 10 and Precinct 11.
Ideal Time to Buy For Buyers & Builders
In the context of its geographical importance which is a valuable addition indeed, this is the ideal time for buy plots here and to start construction. For investors and builders, it is equally good opportunity for them to sell built houses (ready-to-move-in properties) in Precinct 6 and Precinct 8.
Precinct 6 and Precinct 8 Plots Prices
Currently, Precinct 6 and Precinct 8 plots prices are reasonable and ranges between Rs. 30 Lac to Rs. 50 Lacs as per location. With construction of houses is now underway, these prices will go up in future.
Keep visiting Universal Property Network (UPN) for more information and latest updates.