Bahria Town Karachi – A Pride of Pakistan Real Estate
by UPN
May 28, 2020
0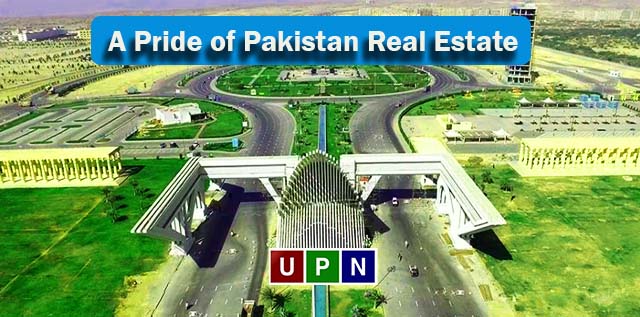 Bahria Town Private Limited is one of the most dynamic companies in Pakistan. Bahria Town has entered into the real estate sector with entirely new strategies and has presented world-class projects with unique features. After getting huge success in Islamabad and Lahore, Bahria Town has launched its masterly-planned mega housing community Bahria Town Karachi.
It is a magnificent addition to the chains of Bahria Town housing schemes. Launched on 26 January 2014, Bahria Town Karachi is a symbol of luxury and prosperity. Undoubtedly, Bahria Town Karachi as a whole is the perfect place to live and invest. Some of its most highlighted projects are Bahria Sports City, Bahria Golf City, and Bahria Paradise.
Location of Bahria Town Karachi
Located ideally on Super Highway, Bahria Town Karachi enjoys a location far from the hustle-bustle of a busy metropolitan like Karachi. It is approximately 9 Km away from the toll plaza. Bahria Town is located far away from the main city centers; it can be considered as a disadvantage for this society. But Bahria Town Karachi is not just a housing society; it is an entire city designed brilliantly within the town.
It is featuring every modern-day facility and unique attractions. You will love to enjoy every facility and necessity within the boundaries of Bahria Town Karachi, from hospitals to standard schools for children. Moreover, soon the metro bus service will be available on its routes, which will make things easier.
Attractive Sub-Projects, Precincts, and Properties
Bahria Town Karachi is covering a large area of land. It comprises three sub-projects Bahria Golf City, Bahria Sports City, and Bahria Paradise. The whole society, including these sub-projects, is further comprising many precincts. Also, all of these precincts are so surprisingly develop that no precinct will remain in the dar.
Bahria Town Karachi is offering residential and commercial plots, residential apartments, shops, and luxury villas for sale.
All of these properties were launched at affordable prices along with easy installment plans. But all the installments are paid, and now you can only buy on full cash payment.
Residential Plots for Sale in Bahria Town Karachi
Bahria Town Karachi is offering residential plots of 125 sq. yards, 250 sq. yards, 500 sq. yards, 1000 sq. yards and 2000 sq. yards.
Commercial Plots for Sale in Bahria Town Karachi
Bahria Town Karachi catches everyone's attention not only for offering numbers of opportunities in residential property but also for commercial. Yes, it is one of Karachi's top housing companies, where the demand for commercial property is equally high as residential plots.
The available commercial plots sizes are 125 sq. yards, 200 sq. yards and 250 sq. yards. Moreover, Midway Commercial is the most appealing option to buy commercial properties in Bahria Town. Besides, Liberty Commercials is also offering the best commercial plots for sale.
Constructed Properties for Sale in Bahria Town Karachi
Those interested to buy constructed properties can confidently choose villas and apartments as per their choice. Yes, different sizes of luxury villas and apartments for sale in Bahria Town Karachi. The available sizes of luxury villas are 125 sq. yards. 152 sq. yards, 200 sq. yards, 235 sq. yards, 350 sq. yards
Besides these villas, anyone can also buy 2-bed, 3-bed, and 4-bed luxury apartments at the best prices.
Some of the Best Attractions in Bahria Town Karachi
Grand Jamia Mosque
Rafi Cricket Stadium
Eiffel Tower
Central Park
Dancing Fountain
Bahria Night Safari & Bahria Adventure Theme Park
36- Hole PGA Standard Golf Course
Carnival Area as well as New Horizon Restaurant
Roots Millennium School
Saudi German Hospital
For more updates, stay connected with Universal Property Network!
Check out our site for more detail. Latest News