Rafi Cricket Stadium Bahria Town Karachi – Latest Development Update
by UPN
May 21, 2020
0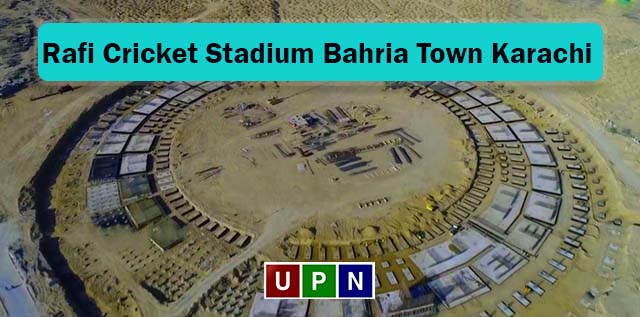 Bahria Town Karachi is the hot-favorite real estate project of both end-users and investors. It is a modern housing society that is offering international standard living facilities. It is so amazingly designed to cater to the need of every investor. Bahria Town Karachi is a beautiful place with all the modern-day facilities and impressive features. Designed with so many attractions, Rafi Cricket Stadium is the most significant among them. It is the largest cricket stadium in Pakistan, with a capacity of 50,000 people.
Currently developing in Bahria Sports City, the design of Rafi Cricket Stadium is ICC certified. Once completed, it will play as host to some of the world's famous cricket matches in the future.
This stadium has three levels. It will be equipped with digital scoreboards, LED screens, floodlights, a hostel, and training facilities. An international standard academy will also be a part of the stadium to train young blood for a future cricket team. Also, a standard gymnasium is under construction that will help improve athletes' physical fitness.
Besides, a world-class swimming pool is also a part of this stadium for the players.
Development Update of Rafi Cricket Stadium
The construction work on the Rafi Cricket Stadium has started a couple of years ago. The development work of the stadium is progressing at the fastest speed. By the new videos and pictures uploading on YouTube, it seems that 60% of the development work is completed.
These days, heavy machinery and hard-working labor are working on the upper structure. Bahria Town is using the world's best technology for the development of this stadium. The work on concrete, blocks, and foundation is almost completed. The building structure of this stadium will be ready by December 2021.
Location of Rafi Cricket Stadium and Best Properties in the Surrounding
Rafi Cricket Stadium, the largest cricket stadium of Pakistan, is located in Bahria Sports City. Many precincts are located in its surroundings. All of these precincts are featuring the best 250 sq. yards and 500 sq. Yards plots. Moreover, 350 sq. Yards villas in Precinct 35 are also offering you the best ready to move properties.  Buying property in the surroundings of Rafi Cricket Stadium will allow you to enjoy every game live in the stadium with your home just a few minutes away.
For more updates, stay connected with Universal Property Network!