Most Economical 250 Sq. Yards Plots to buy in Bahria Town Karachi – Latest Bahria Town karachi
by UPN
June 4, 2018
0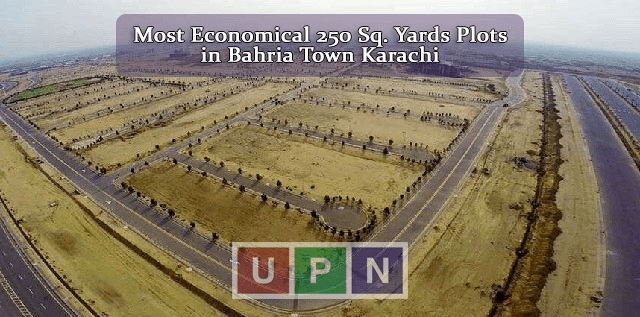 250 sq. yards Karachi are still very affordable investment option at large after 125 sq. yards cuttings. A number of opportunities are available in different precincts for this cutting and most importantly in most of these, development work is near completion. Ideally we can divide these available options in two broader categories on the basis of location. One category is of those plots which are either close to Bahria Golf City or Bahria Sports City and are available at minimum prices. Prime category will be of those plots which will be near Grand Jamia Masjid and will be a relatively up in prices. Let see what we have in Bahria Town Karachi with respect to economical 250 sq. yards plots.
Precinct 21 – 250 Sq. yards Plots
Precinct 21 is overall one of the best options we have in this cuttings and affordable for buyers as well. Near Bahria Golf City, the location is good enough to appeal buyers whereas development status is satisfactory. It is ideal for long term investment to get a handsome return in the end.
Precinct 22
It is reckoned as the best option in 250 sq. yards category in Bahria Town Karachi. Ideally located at the back side of Bahria Golf City, development is going on at a steady pace here.
Precinct 30 & Precinct 32
Almost in the same price range, Precinct 30 and Precinct 32 are very suitable to buy 250 sq. yards plots. The nearness to Bahria Sports City and its major and one of the biggest attractions of Bahria Town Karachi Rafi Cricket Stadium will prove an added advantage.
Note: In above-mentioned Precincts 21, Precinct 22, Precinct 30 and Precinct 32, you can buy a 250 sq. yards plot in Rs. 30 Lacs to Rs. 35 Lacs.
Precinct 6 and Precinct 8 – 250 Sq. Yards Plots
Precinct 6 and Precinct 8 are also very good option for 250 sq. yards plots with respect to location, and development. Grand Jamia Mosque is quite near to these precincts and other attractions make it worth investing. Possession has been delivered in these two precincts and construction of houses can start right after purchase. The price for the subjected plot category ranges from Rs. 55 Lacs to Rs. 75 Lacs.
Precinct 12 (Ali Block) – 250 Sq. Yards Plots
There are plots of 250 sq. yards in Ali Block (Precinct 12) which deserve a mention here because Ali Block is one of the most developed areas in Bahria Town Karachi at a prime location. Rates are still affordable here and one can invest for short-term or long-term.
To buy 250 sq. yards plots in Bahria Paradise Karachi, please feel free to contact our realtors for complete guidance and consultancy. Keep visiting Universal Property Network (UPN) for more information and latest updates.