Things to Consider Before Buying Commercial Plots in Pakistan
by UPN
December 17, 2019
0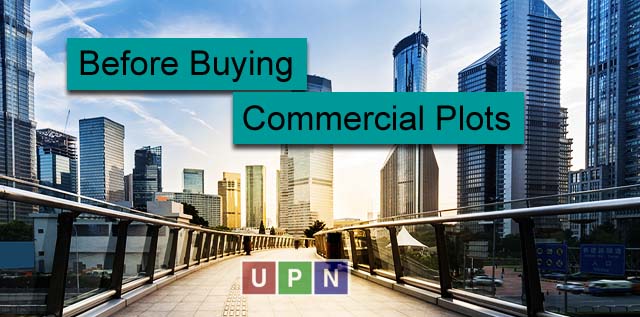 Buying Commercial Plots in Pakistan
The decision to buy commercial properties in Pakistan is not an easy task. Before investing in any commercial property, it is essential to research properly about it. Investing in a commercial Plots can easily turn out to be the best decision you've ever made. Or at the same time, it can be a wrong decision that makes you sit in a corner, holding your head and mumbling, "What have I done?"
So, here we are sharing a useful piece of information that can be helpful for you before investing your hard-earned money in any of the commercial property in Pakistan. Please read out these points before investing in any commercial plots in Pakistan:
Area Location & Budget
Topography & Design
Litigation Issues
Location of an Area & Your Budget
The most important thing that every investor should consider before investing in a commercial plot is its location. But at the same time, setting your investment budget is also important.
Always focus on the "location, location, location of commercial plots."
It is suggested to go for areas that are accessible for all your stakeholders, including customers, employees, and suppliers, among others. Moreover, make it sure that the area of your commercial property is spacious enough for parking space, waiting for areas as well as common spaces.
Now, start finding the plot at the location that is easily accessible to you and your potential customers. For this, you can confidently call us, as Pakistan's property market has abundant investment options and different attractive properties waiting for you.
Topography & Neighborhood of Commercial Plots
It is important to understand the effect of adjacent properties and landscapes on your business. Yes, the plots close to streets and different buildings can majorly bring in or can hurt the traffic to your business. For example, if you are planning to build a restaurant on your commercial property, but the area is located far from the city, will definitely discourage visitors from coming due to accessibility concerns.
Similarly, if you are planning to open the retail store/grocery unit near a residential area would flourish more in comparison to the areas located near industrial areas. As a matter of fact, a good neighborhood can bring in more customers. The ideallocation can play a major role in the success of your business.
It is good to keep in mind the easy access of senior citizens, disabled people as well as people with special needs.
Moreover, considering the topography factor is also important. Make sure that the location of your commercial plot is not prone to natural disasters and any other hazard.
Here are some major factors that a buyer should consider before buying any commercial property in regard to topography.
First, check the soil of the land

Do check the land if it will be able to bear underground constructions

Also examine the area for wetlands, mudflats, and easements

Must check that the area is not too shaded or welcoming to sun
Litigation Issues
Indeed, it is recommended to consult local governing bodies before making a purchase in real estate. Buying residential property can be an easy task but there are certain legalities in making the investment in the commercials. So, it is important to know that the commercial plot is free from all the disputes and litigation issues.

To buy any commercial property or to sell it, contact Universal Property Network!
Check out our site for more detail. Latest News