Top 5 Reasons for Buying Property In Bahria Paradise Karachi
by UPN
May 25, 2018
0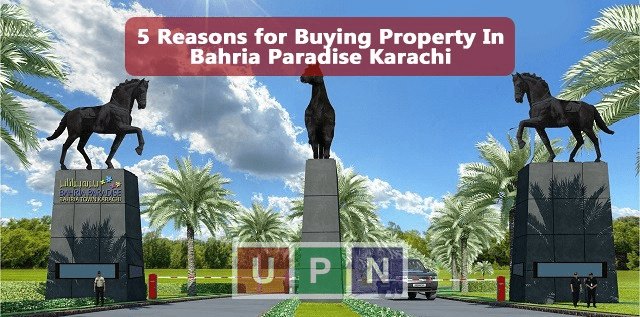 Bahria Paradise Karachi was launched last year in the fourth phase of Bahria Town Karachi as its most exclusive project. Comprising of Precinct 46 to Precinct 58, it features three types of plots cuttings and luxury Bahria Paradise Villas. On the parallel basis, Central Park Commercial is a great prospect for investors. With every passing day, buyers' interest is increasing for Bahria Paradise Karachi properties and in future it is expected to rise further. As development is in full swing in this project, we can anticipate that more investment volume will add on in future. Here we are going to discuss top five reasons which create a great deal of appeal for its properties among buyers.
Bahria Paradise Karachi Development Status
The most encouraging point to invest in Bahria Paradise Karachi is the development status of this project. Right from the start Bahria Town Karachi has focused on this project to bring it in shape as soon as possible. Most of the part or plots are either developed or soon to be on ground. The installation of street lights and development of road network has been done in most of the parts.
Location Factor
The overall location of Bahria Paradise Karachi is ideal which can attract buyers. With not too far from the main gate of Bahria Town Karachi, Grand Jamia Masjid and Dancing Fountain are in its proximity.
Available on Installments
One of the major reasons of buying Bahria Paradise Karachi plots is the availability on installments. In majority of Bahria Town Karachi, plots are not available on installments now. For buyers, it is easier for them to pay own and then continue installment plan accordingly.
Landmarks Like Taj Mahal & Central Park
Inspired by Central Park of New York, Bahria Paradise Karachi will have its own Central Park and replica of Taj Mahal. Construction for both landmarks is about to begin and it will pull in a number of visitors once completed.
The Affordability
Last but not the least is the affordability and being the economical choice. Bahria Paradise Karachi properties have huge potential to give handsome ROI and still available at budget friendly prices.
To invest in Bahria Paradise Karachi properties (250 sq. yards, 500 sq. yards and 1000 sq. yards plots and 500 sq. yards Luxury Villas), feel free to contact our realtors for consultation. For more updates and latest information, keep visiting Universal Property Network (UPN).