Comparative Analysis of Precinct 6, Precinct 8 and Precinct 16 – Bahria Town Karachi
by UPN
July 11, 2020
0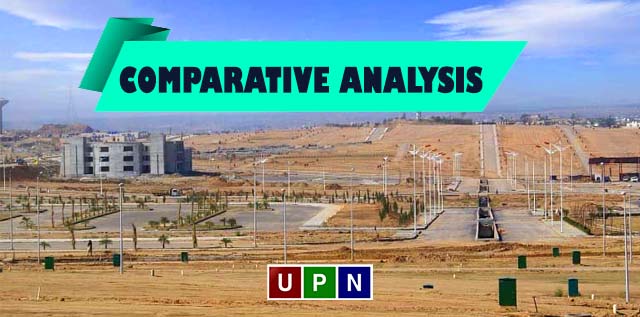 Bahria Town Karachi is home to numerous investment opportunities. Undoubtedly, it is a dream destination for many peoples who dream of living there with their families. Covering a large land area, comprising three sub-projects and many precincts, Bahria Town Karachi is a masterly-planned community. So many precincts, but all are perfectly designed that no one remains in the dark. Featuring the best residential properties of different sizes, but the demand for 250 sq. yards plots in Bahria Town Karachi is very high.
These sizes of plots are available in the various precincts of Bahria Town. However, Precinct 6, Precinct 8, and Precinct 16 hold significant importance because of their locations, development, and prices. In this latest blog, we will make a comparative analysis of all these precincts to find out which is the best? Let's starts this comparison together!
Prices of Plots in Precinct 6, Precinct 8 and Precinct 16
All these three precincts are featuring the best 250 sq. yards residential plots. These are fully-developed precincts where the possession of the plots is available. The overall price of 250 sq. yards plots in Precinct 6, 8, and 16 starts from 42 lacs to 65 lacs.
Location of Precinct 6, Precinct 8 and Precinct 16
These precincts are located ideally. All of these precincts lie in the proximity of the Grand Jamia Mosque. Precinct 16 is located close at the right side of Grand Jamia Mosque. It is a Main Jinnah Avenue facing precinct where the main gate of Bahria Paradise is also located close.
Precinct 8 also enjoys the prime location in Bahria Town Karachi. It is located close to Grand Jamia Mosque and Bahria Heights. Also, Precinct 10 A and 11A are lies in its proximity.
Precinct 6 is facing Bahria Head Office and Midway Commercials. Some of the plots located at a height in this precinct will cost you more than your expectations. These plots are located close to Bahria Head Office. So, the demand for these plots is high, and the prices as well.
Buying Property in Precinct 6, Precinct 8 and Precinct 16
All these 3 precincts are ideal for making a safe and smart investment. Buying a plot of 250 sq. yards in Precinct 6, Precinct 8, and Precinct 16 will be a favourable decision. You can consider these plots to start the construction of your dream home. Investing in these precincts to earn handsome returns is also good. On the other hand, those who want to earn regular rental income can easily construct their properties.
Overall, Precinct 6, Precinct 8, and Precinct 16 are among the top three precincts of Bahria Town Karachi to buy residential properties.
Stay Updated with  Universal Property Network!
Check out our site for more detail. Latest News