Constructed Properties for Sale in Bahria Town Karachi – Detailed Analysis
by UPN
September 22, 2020
0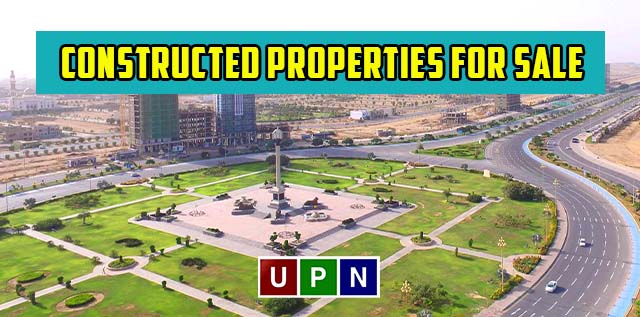 Are you in search of the best-constructed properties for sale in Bahria Town Karachi? But don't know which of the options available? Or find a beautiful villa on rent where you can immediately shift to have a peaceful and comfortable lifestyle with your family? Just stop searching anymore! You are at the right place. This latest blog is all about the constructed properties for sale in Bahria Town Karachi.
So, let's explore the details one by one:
Precinct 2
This is the first precincts of Bahria Town Karachi, where you will find the best-constructed villas in two different sizes. Precinct 2 features Quaid Villas and Iqbal Villas.
Quaid Villas are 200 sq yards luxury villas. These villas were launched at the booking price of 75 lacs. However, the current price of Quaid Villa is 1.80 crores to 2.10 crores. The rental value of a Quaid Villas is 50 thousand to 70 thousand.
150 sq yards Iqbal Villas were launched at the price of 98 lacs. The current market value of these villas is 1.35 crore to 1.50 crores. Different category of villas is available, and these are ideal for residence and investment purposes. The villa on rent will cost you around 45 thousand to 55 thousand.
Precinct 10A and 10B
The beautiful villas of Precinct 10A and 10B were launched at the total price of 49 lacs. Now the ready to move with possession villa is available at the price bracket of 1.30 crores to 1.60 crores. These are 200 sq yards villas where families are living, and a shopping gallery is open. A mosque will be operational soon.
Those looking for villas on rent will have to pay around 40 thousand per month.
Precinct 11A and Precinct 11B
125 sq yards villas of Precinct 11A and 11B were launched at the price of 42 lacs. These villas are available at the total cost of 80 lacs to 1.20 crores. The rental value of these villas is 25 thousand. The prices of the villas in 11A are high as it is located at the height.
Precinct 27 and Precinct 31
235 sq yards villas are located in Precinct 27 and Precinct 31. These are impressively developed villas where the possession of most of the villas is available. The launching price of these villas is 49 lacs. The villas' current prices with key are high, and those at the back will cost you less. Precinct 27 and Precinct 31 villas will cost you around 80 lacs to 1.20 crores. Moreover, you can also buy these villas on rent at the rental amount of 25 thousand.
Buying in these precincts is recommended to earn huge returns in the coming future.
Precinct 35 Sports City Villas
Precinct 35 villas of 350 sq yards were launched at the price of 1.45 crores. However still, some of the villas will cost you less than the booking amount. The current prices of a Sports City villa are 1.30 crores to 1.80 crores. Villas that are available without keys will cost you around 1.30 crores.
The prices of Sports City Villas are highly attractive. Once the development work of Rafi Cricket Stadium completes the prices of these 350 sq yards villas will be near to 2 crores.
Conclusion
The demand of constructed properties for sale and on rent in Bahria Town Karachi is increasing day by day. The ratio of population and the status of construction and development is also improving with time. On the other hand, all the villas and houses for sale in Bahria Town are still affordable. So, those looking to be a part of this luxurious community can confidently become its resident by choosing their desired constructed property. Also, you can buy these villas to earn a handsome return on investment.