DHA Gujranwala Confirmation SMS Status and Information
by UPN
February 7, 2018
0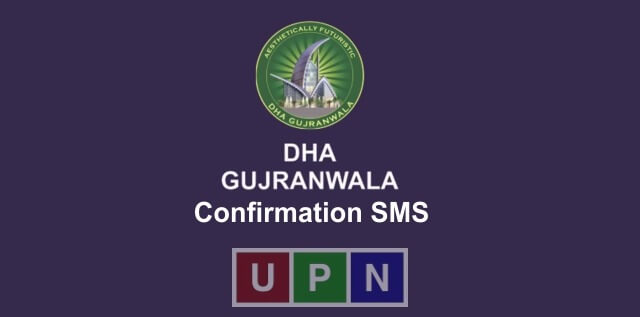 Many applicant of DHA Gujranwala are anxious about DHA Gujranwala Confirmation SMS. Several applicants have not received a confirmation SMS from DHA Gujranwala regarding their application forms. People are worried that not only they might lose a golden investment opportunity, but their processing fee may also be wasted. To find answers about the curious case of DHA Gujranwala Confirmation SMS, read below
DHA Gujranwala Confirmation SMS
Before we tell you about why you might not have received confirmation SMS from DHA Gujranwala, it is important that you know about different kinds of SMS notifications from DHA Gujranwala. Basically, DHA Gujranwala gave the potential clients 2 options of submitting an application form
Hand Written Forms
Online Forms
In the case of online forms submission, form numbers were provided as soon as the applicant submitted his/her form. The only Confirmation SMS that was sent to online applicants was when they submitted processing fee into a designated bank branch.
Criteria of DHA Gujranwala Confirmation SMS is a little different for Hand written forms that were submitted by hand in authorized bank branches. 2 Confirmation SMS are supposed to be sent to such applicants, one when they deposited processing fee and second one when their applicant information is uploaded into the DHA Gujranwala Balloting database. It is this 2nd Confirmation SMS that takes a little time and most of the applicants are worried because they have not yet received that 2nd Confirmation SMS from DHA.
DHA Gujranwala Confirmation SMS Process
You need to understand the data entry process in order to understand the delay in receiving your DHA Gujranwala Confirmation SMS. After you have submitted your hand written application form into an authorized bank branch, that application form was sent to Main Headquarter of that bank which is then supposed to forward all the application forms to DHA Gujranwala Head Office. Now as soon as your vital information is uploaded into DHA Gujranwala Database, you receive your 2nd confirmation SMS. DHA Gujranwala has hired a large staff of data entry operators that works in different shifts around the clock and even on Sundays to ensure timely uploading of applicant data into DHA Gujranwala Database.
There are thousands of applications from not only within Pakistan but even from outside Pakistan for 5 Marla DHA Gujranwala plots. It will take time even with such efficient arrangement of data entry to upload this applicant data into DHA Gujranwala Database.
DHA Gujranwala SMS Confirmation Issues
Now there are some cases in which an applicant's data might have been uploaded into the database of DHA Gujranwala but they still might not receive Confirmation SMS. There are mainly 3 reasons for that:
MNP numbers: Mobile numbers that originally belonged to one mobile network but are now being operated from some other network
International Roaming Numbers
International Numbers Operated in Foreign Countries
DHA Gujranwala SMS Confirmation Resolution
If you have not received even the first confirmation SMS, informing you about successful deposit of processing fee and you don't even have an MNP number, then go to the bank branch where you submitted your processing fee. Don't forget to take the bank receipt with you as proof of deposit.
If your phone number belongs to any of the above 3 categories or you have mistakenly deleted your DHA Gujranwala Confirmation SMS, then here is a solution. DHA Gujranwala administration is soon going to launch an online service on their official website. This service will require applicants to enter their CNIC Number into a specific field and all the booking applications submitted against that CNIC, will be displayed. Form numbers and ballot numbers will be displayed for all these booking applications.
If you want to remain updated with all the developments related to DHA Gujranwala, please sign up for our free newsletter. We bring you timely updates not only from all DHA project but from every real estate project launched in Pakistan.