Eiffel Tower Development Started in Bahria Sports City Precinct 37 – Latest Update
by UPN
September 16, 2018
0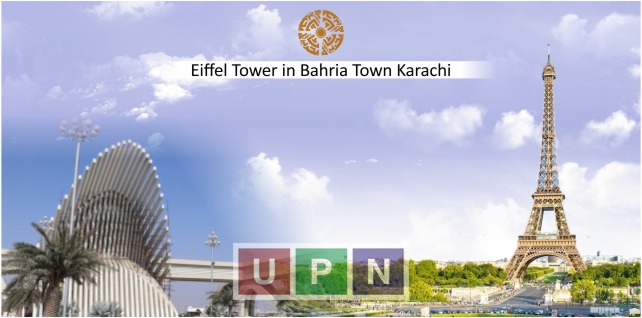 Bahria Sports City Karachi has been discussed a lot in the previous days in the property market and concerned circles. Rumors and baseless speculations were propagated to create a negative impression of Bahria Town Karachi out of the context. But the official response of administration and their assurance has satisfied the clientele who were panicked and malicious campaign about Bahria Sports City. The management pledged to deliver each and every single plot of Bahria Sports City as per commitment and development is underway for making it happen. In the meanwhile, we got some really encouraging update from Bahria Sports City about development of Eiffel Tower.
Eiffel Tower Development Started in Precinct 37
The latest news from Bahria Sports City is about the development of its second biggest attraction, the iconic Eiffel Tower. Bahria Town Karachi has announced Eiffel Tower in Bahria Sports City a few months ago but the working was not started on ground. Now the construction of Eiffel Tower has been kicked off in Precinct 37 which will be a wonderful development for residents in future. The machinery has moved in and finally it is on way to development as promised. However time frame for its completion has not been hinted yet.
Eiffel Tower Bahria Town Karachi – Details
Eiffel Tower in Bahria Town Karachi will be almost on the same pattern as in Bahria Town Lahore. 25 acres of land has been reserved for the development of Eiffel Tower and area/parking in its surroundings. Like Bahria Town Lahore, it will also become a tourist attraction with a huge visitor count on daily basis.
Impact of Eiffel Tower Development
Eiffel Tower development will have a great impact on not only Precinct 37 but entire Bahria Sports City. With Rafi Cricket Stadium in the neighborhood, both these attractions will be a major cause of price increment in upcoming days. It would be a wise move if buyers opt to invest in Precinct 37 and other neighboring precincts at affordable prices this time for a good ROI in future.
For more information and updates, keep visiting Universal Property Network (UPN).