Precinct 23A Villas Development Started – Bahria Town Karachi Update
by UPN
September 17, 2018
0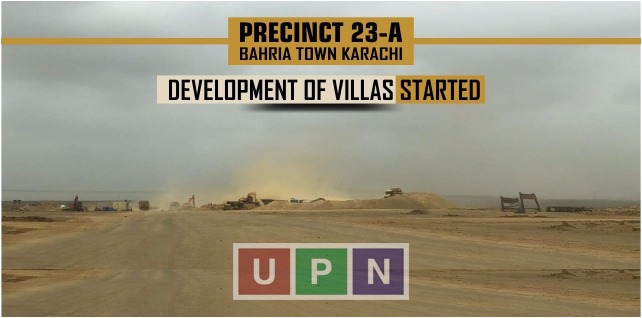 In Precinct 23A, Bahria Town Karachi has allotted 125 sq. yards and 200 sq. yards villas in the recent ballot. These villas were offered on installment plan but remained un-balloted for a long period of time. After the much awaited balloting, all eyes were on development of Precinct 23A but nobody has the clue when it will start. It has already taken too much time so Bahria Town Karachi seems a bit more concerned and focused for development here. All those who own a villa in Precinct 23A must be delighted as development has been kicked off finally.
Precinct 23A Villas Development
The development work of Precinct 23A Villas is now underway after much delay caused by some uncongenial reasons. Those who have visited the site in past couple of days are eyewitness of this development taking place for Precinct 23A Villas. The boards indicating development work for the project (125 & 200 sq. yards plots) have been placed there and required machinery has arrived on the site.
Construction of Precinct 23A Villas
Initially at this stage, ground leveling is on the roll and once it gets over, construction of villas will start right after. For construction of these villas, Bahria Town Karachi has awarded contract to a private construction company. So far the name and duration to complete the project has not been disclosed but we can say it is a good step at the right time.
Precinct 23A Villas Prices & Investment Potential
In the current scenario, owners of these villas should have wait a little more to get good profit out of their investment. However, for new buyers these villas will be a wonderful option to hold for at least a couple of years. At present, these villas are ranging around Rs. 50 lacs to 60 lacs for 125 sq. yards and Rs. 60 – 70 lacs for 200 sq. yards villas. With development continued now, prices will go up in future for sure.
For more information and updates, keep visiting Universal Property Network (UPN).