Reasons Why Precinct 6 and Precinct 8 Plots Ideal to Buy – BTK Update
by UPN
September 15, 2018
0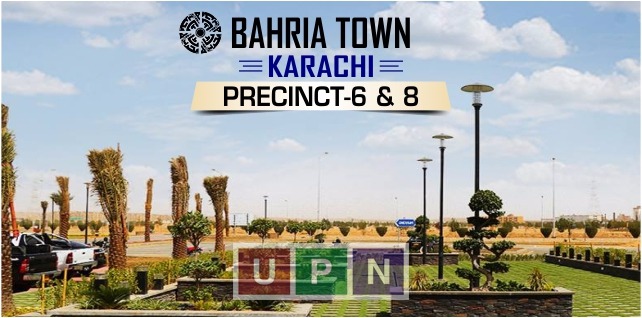 For a certain duration the starting precinct (Precinct 1) remained preferred choice of buyers for 250 sq. yards plots. Earlier it was the only precinct to have developed plots in this cuttings and near the main entrance. Currently Precinct 6 and Precinct 8 plots of 250 sq. yards have turned out to be ideal options for residency. Recently, development work has been completed here and now all plots in these precincts are on ground. The biggest of all, buyer can get construction approval to build house after purchasing the plot at reasonable price. Why Precinct 6 and Precinct 8 plots are highly recommended for buying now, here are the top reasons.
Price Efficient Plots of Precinct 6 & 8
The basic reason of why Precinct 6 and Precinct 8 plots are now trending in the market is being price efficient. As far as location is concerned, these precincts are not too far away from the main entrance. In Precinct 1, 250 sq. yards plots are available in Rs. 1 Crore to Rs. 1.4 crore range as per location. However, the same cutting is available in Rs. 57 lacs to 75 lacs which is almost quite economical comparatively. Budget limitation has a greater influence on property buying so precinct 6 and precinct 8 plots becomes an automatic choice.
Space & Accommodation Efficient (5-Bedroom)
As compared to 200 sq. yards Quaid Villas or other ready-to-move-in properties of same cutting, these 250 sq. yards plots offer more space. These plots are a wonderful package for buying and construction of home consequently. The approved map allows 5-bedroom accommodation on this plots which is great for buyers. Moreover, in lesser cost (construction + plot), the buyer can own a residence of 5-bedrooms.
Location and Other Linked Benefits
The location of both these precincts is just perfect as a number of main sub projects of Bahria Town Karachi are in surrounding. These include Bahria Hills, Grand Masjid, Bahria Heights, Precinct 10 Villas, Midway commercial and Bahria Head Office. Already a few homes are under construction and near to completion of grey structure. Moreover, neighboring Precinct 10 Villas has a good number of inhabitants and community living features and other facilities will be available in the neighborhood.
Keeping all these factors in view, buying in Precinct 6 and Precinct 8 will be a wise decision.
For more updates and information, keep visiting Universal Property Network (UPN).