Rafi Cricket Stadium Bahria Town Karachi Development Update – Bahria Town Karachi Latest Update
by UPN
July 23, 2018
0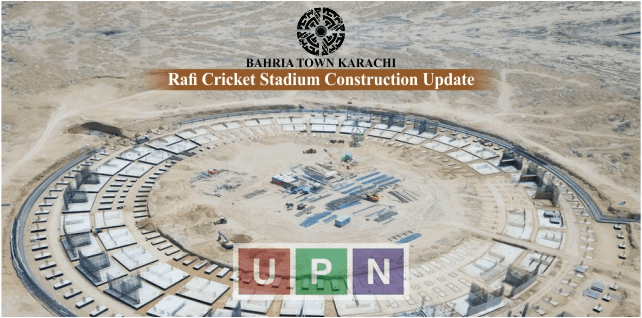 Bahria Town remains the top favorite housing society in Pakistan for a reason. It caters to the Pakistani modern needs in style. The needs for a modern, beautiful, well-guarded and facilities equipped housing society is what you get here. After its immense success in Lahore, the mega project in Karachi is in full swing with rapid developments taking place.
One of the greatest attractions for Karachi's mega project is the Rafi Cricket Stadium which is announced to be the greatest and the best cricket stadiums in Pakistan. Being an ICC certified design, it will play as host to some of the world's most famous cricket matches in future. The complex is said to consist of a cricket academy to train young blood for a future team. An international standard gymnasium is also under construction here to meet the physical fitness needs for an athlete. A world class swimming pool is also being built here along with hostels for the accommodation of players.
Rafi Cricket Stadium Bahria Town Karachi Construction Update
Bahria management strives to live up to its promise and as of July 2018 construction update, the mega project is under development at a rapid speed. To build a huge building such as this, the world's best technology available in Pakistan is being used. So far, laying the foundations have been completed and one can easily see the ground has been leveled for the upper structure to start being erected. Tons of steel and cement has been used with proper timely checking by the experts to ensure the foundations are adequate for further development. It is likely that the stadium will be open to play by the time it is promised.
Surrounding Locality
The surroundings of the stadium have everything to offer. Precincts 22, 30, 32 and 34 will be on its four sides and you have the chance to buy a 250 Sq. Yard plot here. After its completion it will be the best place to live in as not only do you get bang for your bucks, but you can also enjoy every game live in the stadium with your home just a few minutes away. There is no denying that it will get the most visitors, so it is the best place to buy your new home in Bahria Town Karachi.
UPN Services
Universal Property Network has successfully managed to assist in sale and purchase of many plots in Bahria Town Karachi to buyers. We understand that buying property is not easy especially for the first timers that is why buying with UPN is the best choice to get a fair deal. Precincts near the Rafi Cricket Stadium are ideal to invest or to live (if you are looking to relocate). As the development continues here, prices are rising so our advice is, if you are looking to invest or seek a new plot for your dream home, do not hesitate to contact us and we will get you the best deal in town.