Gwadar Golf City Adjustment Offer for Golf-facing Plots Holders – Latest Update
by UPN
August 1, 2018
0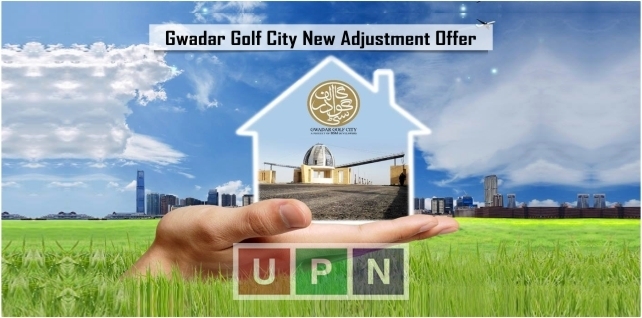 Gwadar Golf City is set to introduce an ideal concept of luxury living at a cost that one can easily afford. Being a project of BSM Developers, it is carrying forward their legacy of swift development and delivering its promises. Meanwhile, it keeps offering exciting opportunities for its valued clients for their benefit. Last month it had offered adjustment of Rs. 100,000 in installments for open forms holders of plots but it was not valid for golf-facing plots. This time administration has come up with a special adjustment offer for those who booked golf-facing plots in Gwadar Golf City.
Gwadar Golf City Adjustment Offer for Golf-facing Plots
As we already know that there are two categories (cuttings) available in golf-facing plots of Gwadar Golf City i-e 1 Kanal and 2 Kanal. The society management has offered adjustment of different amount for both cuttings.
1 Kanal Golf-Facing Plots:
Those who have booked 1 Kanal (500 sq. yards) golf-facing plots in this project can avail adjustment of Rs. 250,000 in installments. They will have to submit 5 Adjustment Forms along with their open form to get this concession.
2 Kanal Golf-Facing Plots:
For 1000 Sq. yards golf facing plots, adjustment of Rs. 350,000 has been offered. However 7 Adjustment Forms will have to be submitted along with open form for this category.
The buyers can get Gwadar Golf City Adjustment Forms are available in market to authorized dealers @ Rs. 15,000 each. These Adjustment Form along with Open Forms can be submitted in Gwadar Golf City Lahore and Karachi offices. This offer is for all booking forms of 1 Kanal and 2 Kanal golf-facing plots. All those who have submitted their open forms of pre-launch deal already can also avail this special offer by only submitting adjustment forms.
Last Date to Avail Adjustment Offer & Open Forms Submission
All customers will have to keep in mind that last date of submitting open forms and to avail adjustment offer is 10th August. The forms submitted after the deadline won't be accepted and entitled for adjustment instead these open forms will be blocked.

Gwadar Golf City Development Status
BSM Developers knows how to reshape the land and turn into a living community. The development work is in full swing at Gwadar Golf City's actual site where Main Gate House and Main Boulevard have been completed. Main Boulevard has been illuminated with lights whereas Grand Jamia Masjid construction is in process now.
For investment opportunities in Gwadar Golf City, feel free to contact our realtors. Keep visiting Universal Property Network (UPN) for more updates and information.