Jinnah Avenue Facing Apartments on Installments – Bahria Town Karachi
by UPN
October 22, 2020
0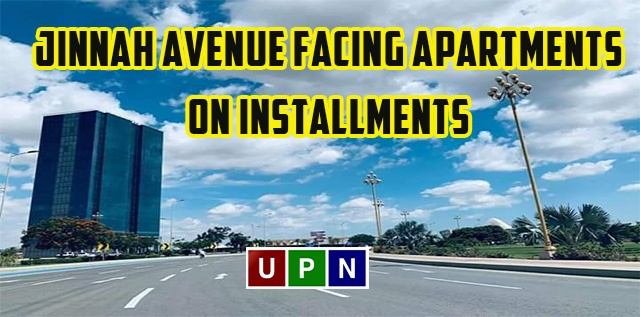 A new project of Jinnah Avenue facing apartments is launched in Bahria Town Karachi. These are 2 beds, 3 beds, and 4 bedroom apartments offered on 3 years installments. Ideally located, it's a Bahria Town's project where the apartments are available at pre-launch prices.  These Jinnah Avenue facing apartments are designed in three categories, like Type A, Type B, Type C depending on the apartment's sizes and location. This project is currently planning phase, but soon the development work will begin, and the prices and payment plan can be revised. Before discussing the prices of these newly offered apartments, let's have an overview of the apartments projects located in this mega society:
Apartments Projects in Bahria Town Karachi
Bahria Town Karachi is the country's largest housing venture, where a wide range of residential and commercial properties are available.  Not only plots, but Bahria Town is grabbing investors' and buyers' attention by offering the most luxurious apartments for sale. One of the top apartments' projects in Bahria Town is located in Precinct 19. These apartments were launched around 4 years ago, but now it's ready to shift where hundreds of families are already living.
Another apartment project where the demand is very high is located in Precinct 54 Bahria Paradise. These apartments are also launched in installments. However, some investors have concerns as the location is quite far from the main entrance.
So, it would be nothing wrong to say that these Jinnah Avenue facing apartments will get huge success once the development work begins. Check the prices below:
Apartments on Installments – Prices and Details
Luxurious and Spacious Apartments
Pre-Launch Rate 7000/sft
Type A 3 bed (Jinnah Face)
1480 sqft x 7000
Total Price:  10,360,000
Type B 2 bed (Jinnah Face)
1159 sqft x 7000
Total Price: 8,113,000
Type C 2 bed
1028 sqft x 7000
Total Price: 7, 169,000
Size of Units Could be Changed + 5% as per final planning
15% Booking, 10% Digging, 65% (30 months plan) 10% Possession
Location of Jinnah Avenue Facing Apartments
This new deal of apartments is launched on the Main Jinnah Avenue of Bahria Town Karachi. Apartments on installments are located at a short distance from the Bahria Town's main entrance. It lies in front of Bahria Towers, starting from Bahria Tower 26 to Tower 1. Moreover, different commercial buildings are already operational in proximity.