Precinct 31 Bahria Town Karachi – Possession Announced
by UPN
October 21, 2020
0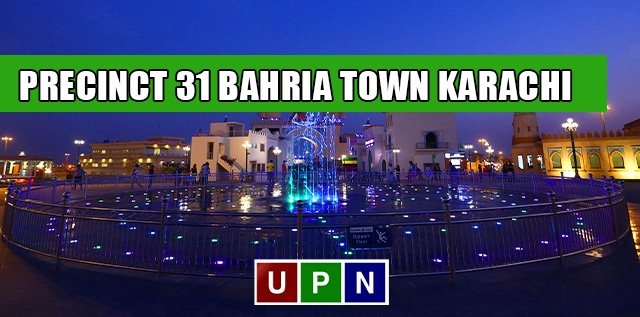 Precinct 31 Bahria Town Karachi is among the highly attractive precincts of this mega housing society. Possession of properties is handover, where numbers of families have already shifted. Located close to Rafi Cricket Stadium, the properties for sale in Precinct 31 are profitable for both, residential and investment purposes.
Undoubtedly, all the precincts of Bahria Town Karachi are so amazingly develop that no one remains in the dark. But there are many precincts which hold importance for offering more investment potential, ideal location and offering the best properties.
Precinct 31 offers the limited numbers but the heart-winning plots of 125 sq yards and the most – luxurious 235 sq yards villas at the affordable rates. Let's discuss the current development status, possession, inhabitation and investment analysis below:
Current Development Status in Precinct 31
The development work such as road infrastructure, street lights, sewerage, electricity, all is completed so far in Precinct 31. If we discuss the current development status of properties, then you will be happy to read that most of the villas and plots are 100% ready. Even, all the 125 sq yards are on-ground, but the prices are still reasonable.
Possession Announced – Update that will Increase the Value of Its Properties
We UPN confidently shares that the possession of properties in Precinct 31 is handover.  Residential plots and the completed villas of 235 sq yards are available with possession. Even, around 50 to 60 families have already started living in these luxury villas for sale in Precinct 31.
Location and Investment in Precinct 31
This precinct lies at the distance of 16 KM from the Bahria Town main entrance. It seems that this precinct is quite far from the Bahria Gate, but the brilliant developments and the nearby attractions, impressively fulfill this flaw. Precinct 31 is situated in the proximity of Rafi Cricket Stadium and the already operation Bahria Sports City Villas. Moreover, some of the other attractions in the surroundings are Dancing Fountain and Bahria Golf City.
As this precinct is located close to the top attractions of Bahria Town Karachi, the demand for properties and their value will always remain high. It's a precinct where you will be able to enjoy all the top-class amenities and luxuries while living in an already inhabited area.
The prices of plots and the luxury villas of 235 sq yards is reasonable. These villas are currently available at the starting price of 90 lacs to 1.05 crores depending on location and development.
So, buying in the plots as well as the ready to shift villas of 235 sq yards is full of profits!
Check out our site for more detail. Latest News