Latest Bahria Town Karachi Property Rates and Upcoming Developments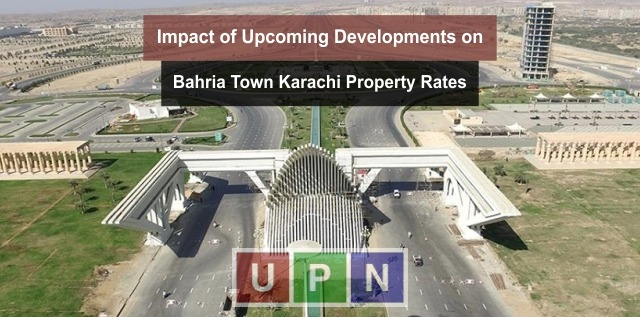 As things are headed towards right direction in Bahria Town Karachi, all eyes are on upcoming significant developments which will change the momentum here. The existing investors and buyers are anticipating for that moment while the new comers have started investing to cash the opportunity at the right time. Be it infrastructural development or major administrative moves, it will create a positive impact on property rates of Bahria Town Karachi. Development at large scale is continued in entire Bahria Town Karachi, so a few subprojects and landmarks are opening soon while others to follow. These upcoming developments and their expected the outcomes are discussed here.
Bahria Sports City Possession
The biggest of all these developments is announcement of Bahria Sports City villas and plots possession way before expected time. Once this commitment is fulfilled (scheduled to start from13th March), it will be a major booster for sports city prices and would have a positive the effect on other subprojects. So, all those who have invested in this biggest subproject of Bahria Town Karachi wait a bit to see the property boom. Investment volume and property prices are expected to rise in this project sooner.
Expected Possession of Precincts 10, 11, 15A & 15B
Bahria Town Karachi's decision to award possession in Sports City will push management to give possession in other precincts as well. Precinct 10, 11, 15A and 15B are on top in this list and might get possession soon after Bahria Sports City. It will ensure that Bahria is equally focusing on its subprojects and all other precincts to pace up property market here.
Rayhan Hills Golf & Country Club near Completion
Inside Bahria Golf City, Rayhan Hills Golf & Country Club is almost near completion and will be ready for opening soon. Construction of homes is already underway in this exclusive project which spanned over entire Precinct 20. The demand of properties including villas in its neighboring precincts (P27 and P29) have been really good in the recent past and now after this development it will rise further with increment in rates.
Theme Park Opening & Commercial Opportunities
Theme Park Bahria Town Karachi (Bahria Adventura) is opening on 23rd March, 2018 and this is the time for commercial investments in Bahria Town Karachi. 2000 sq yards commercial plots are available in opposite Theme Park and some mix-use, high-rise buildings are planned at this commercial avenue. Recently BTK has approved ground +30 floors elevation on 200 sq yards plots so it would be a wise move to put your money here for instant gain.
Completion of Road Connectivity Projects
Last but not the least accessibility from areas far across to Bahria Town Karachi should be at ease for smooth transition in and out. In this regard, road infrastructure projects play a key role and increases market value of the area. Completion of work on Super Highway is expected soon and working on Bahria Town Karachi Motorway Interchange is in progress on site. Once completed, both these projects will increase worth of Bahria Town properties.
For more updates and developments of Bahria Town Karachi, please keep visiting Universal Property Network (UPN).