Liberty Commercial and Midway Commercial – A Comparison
by UPN
April 9, 2018
0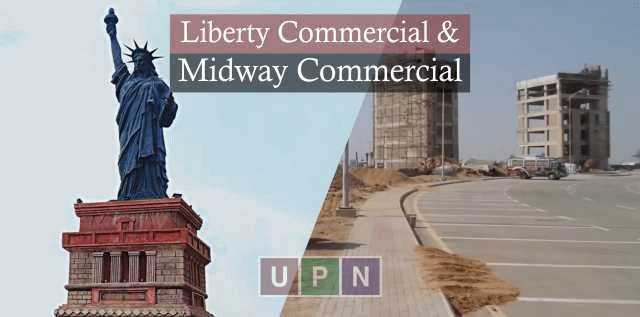 Bahria Town Karachi is about to launch Liberty Commercial officially which has already attracted a number of investors. With having existing Midway Commercial nearby, buyers have also started comparing both options. It is a general perception that liberty commercial plots have an edge over Midway Commercial plots as bigger-sized commercial has long waited. There are some other factors to look into including price which influences property buying decisions most of the time. The current time is also favoring commercial investments in Bahria Town Karachi as Bahria Adventura Land is opening soon. In the following we are going to compare these two commercials on the basis of prominent features.
Location
The location of Liberty Commercial and Midway Commercial A is more and less same when it comes to positioning. Both are near Bahria Town Karachi Head Office, Theme Park, and Jinnah Avenue and the newly opened multiplex cinema. Liberty Commercial is located at extreme right of Bahria Hills and right at front of Five Star Hotel. Unlike Midway Commercial, Liberty Commercial plots are in a straight row alongside lake. There won't be front/back and inner/outer plots as all of these to share the same advantages.
Development of Commercial Plots
As far as development is concerned, Midway Commercial is already developed but Liberty Commercial development is also quite satisfactory. The ground/plot leveling has been done, road structure completed and sewerage work is in progress.
Size of Plots
In this category, investors can be inclined towards Liberty Commercial plots for having almost double size than that of Midway Commercial (125 sq yards). The 266 sq yards (60 x 40) commercial plots will obviously have great investment potential. The factor of bigger-sized plots will definitely come into play.
Ground Elevation/Floors Construction
The larger in size Liberty Commercial will also have two more floors as Ground +08 construction has been allowed on these plots. It will enable investors for maximum utilization of the available space in the form of a mixed-use commercial building. On the other hand, Midway Commercial plots (125 sq Yards) allows Ground +06 floors construction.
Price
The price efficiency dominates all others factors and to make up investors' mind to buy a property. Midway Commercial plots are available in range of Rs. 6 crore to Rs. 7.5 crore at lump sum payment. The Liberty Commercial plots are being offered at total price of Rs. 6.5 crore and which will be paid in 3 years installments. In this case, Liberty Commercial will be the choice of investors for offering 265 sq yards plots on easy installments.
This is the right time to invest in Liberty Commercial plots on same/level price. Soon it will be available at own so better to buy it today instead of getting late.
For more information regarding Liberty Commercial, please contact our realtors and keep visiting Universal Property Network (UPN).