Life in Karachi City vs Life in Bahria Town Karachi – A Comparison
by UPN
September 12, 2020
0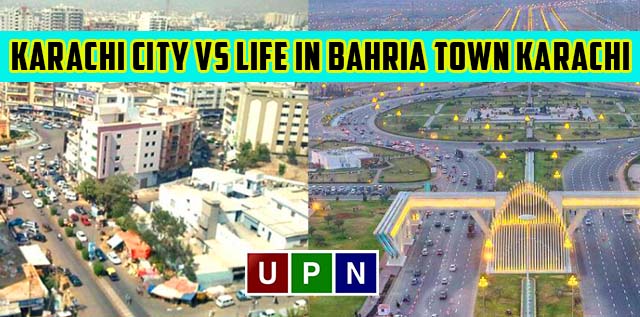 Karachi is the largest city in Pakistan, also known as the City of Lights. Bahria Town Karachi is the largest/mega housing society beautifully developed at the landscape of Karachi. However, life in both areas is different. Living in the different of Karachi is nothing less a challenge. There are lots of problems and difficulties which surround its residents every day. On the other hand, you will love the new version of living in Karachi in Bahria Town Karachi. This place is entirely different where everyday living is full of joy, happiness, and comfort.
So, let's make an apple to apple comparison of life in Karachi City vs Life in Bahria Town Karachi below in the article!
Infrastructural Differences
City of lights Karachi generates the highest of the revenue and pay more taxes in comparison to any other city of Pakistan. But due to the instability of the past governments and their negligence, the infrastructure of the Karachi is mostly destroyed. Government's lack of interest results in overcrowded communities, traffic jams, and not proper disposable and drainage systems.  On the other hand, Bahria Town Karachi shows a completely different picture of living in Karachi.
It is a perfect-living place with state of the art infrastructure, thoughtful town planning, and modern developments. Clean carpeted roads, proper waste, and drainage system and fabulous management all make this society stands prominent.
Electricity Problems in Karachi vs Uninterrupted Supply in Bahria Town Karachi
One of the most critical issues of living in Karachi City is its electricity problems. Due to the excessive increase in the city's population, electricity demand is also increased. However, lots of its grids fail to meet the electricity requirement in the city, especially in summers resulting in endless electricity breakouts.
On the other hand, Bahria Town Karachi has its power units and the proper system for electricity. Bahria Town ensures the provision of an uninterrupted supply of electricity to its residents regardless of any time or season. This one of the primary facility adds more value to choose Bahria Town Karachi as a perfect living place.
Moreover, it is essential to mention here that the open naked wiring of electricity in Karachi City is a high threat to the life of its residents. Even, several hazards occur, especially in the monsoon season. But thankfully, this issue is not prevalent in Bahria Town Karachi. This society is appropriately developed with underground wiring. This system not only good for resident's security but also plays a significant part in maintaining the clean and beautiful environment of the society.
 High-Standard Lifestyle in Bahria Town Karachi
Bahria Town Karachi offers high-standard living facilities where you will love to spend your every moment of life. It is located away from the hustle and bustle of the main city and developed in a clean and fresh environment. It offers all the necessities like:
Best Grocery Stores
Hospitals and Pharmacies
Schools and Colleges
Restaurants and Hotels
Countless Entertainment Facilities
Major Attractions of  Bahria Town Karachi
Numerous Properties at Different Prices
Properties on Installments Available
High-Standard Facilities and Unique Attractions
Safe and Secure Living Environment
Eiffel Tower
Grand Jamia Mosque
Dancing Fountain
Beautiful Parks
Theme Park
Day n Night Safari
Rafi Cricket Stadium and much more
Conclusion
The facilities provided in Bahria Town Karachi offer a high-standard, healthy and peaceful lifestyle in it. At the same time, there is no comparison of it with the lifestyle of the main Karachi City. Living in Bahria Town Karachi will be the right choice for both local and Overseas Pakistanis.
For further assistance, contact Universal Property Network!
Check out our site for more detail. Latest News