Midway Commercial Bahria Town Karachi Plots, Shops and Offices
by UPN
December 16, 2021
0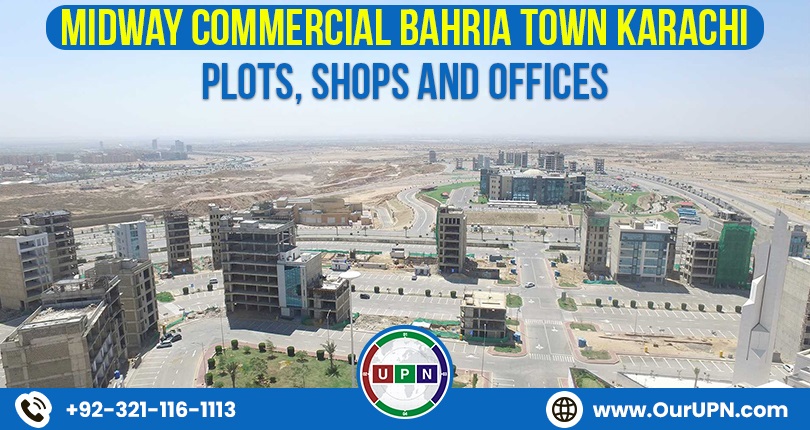 Bahria Town Karachi needs no introduction; it's a top-class development with bundles of residential and commercial opportunities. This society features a lot of attractions, starting from peaceful and clean surroundings to modern and advanced developments. This place is graceful from a residential point of view and the best choice for business and investment purposes. It has many projects to set up your business, but Midway Commercial Bahria Town Karachi has significant importance.
It is located in the mid of this appealing society, completely developed and grown as the destination to several popular brands. Further details for this project are:
Midway Commercial Location
As described earlier, Midway Commercial Bahria Town Karachi is located ideally. This place is situated at a distance of around 4 KM from the main gate. Moreover, its distance from main Jinnah Avenue is only 1 KM. Also, Bahria Town Head Office has located close/inside it. Midway Commercial has two sides: A side and B side, and both are located opposite each other. The nearby surroundings of Midway Commercial include Precinct 4, Precinct 6 and Precinct 19 Bahria Apartments. Furthermore, Bahria Heights and Grand Jamia Mosque are also short distances. Therefore, the location of this project is outstanding, especially for offices.
Properties for Sale in Midway Commercial Bahria Town Karachi
This top commercial development is thoughtfully planned to facilitate modern buyers as per their requirements. Midway Commercial properties for sale are:
5 Marla Commercial Plots
Offices of Several Sizes
Different Sizes Shops
Beautiful Plazas with Different Floors
Sharing below the prices of these properties available at Midway Commercial B Side.
Midway Commercial Plots Prices
This marvellous development features the commercial plots of 5 Marla. These plots are completely developed and have possession. Bahria Town allows the construction of ground + 6 floors on a single plot of Midway Commercial. On the other hand, you can construct eight or more floors by adjoining 2 or more plots. The latest prices of 5 Marla commercial plots in Midway Commercial B are starting from 4 crores to 5.30 crores. Prices are different as per the location.
Midway Commercial Offices Prices and Rent
The well-planned offices are available for sale in Midway Commercial Bahria Town Karachi. The sizes of the offices are different. Midway Commercial offices sizes are starting are usually 1200 – 1400 sq ft. Also, available in sizes of 500 – 600 sq ft. The offices on the first and second floors cost 14,000 sq ft to 15,000 sq ft. Offices on the ground floor will cost you around 40,000 to 45,000 per sq ft.
These offices on rent are available at the prices of 2.50 lacs to 3 lacs on the ground floor. The other prices on first to sixth floors range between 1.50 lacs to 70 thousand.
Midway Commercial Shops Prices and Rent
Like the offices and plots, shops in Midway Commercial are also available in different sizes. Shops on the ground floor will cost you more as compared to the shops on the first, second and above floors. The prices of shops are starting from 45,000 per sq ft to 9,500 per sq ft. Shops in Bahria Town Karachi Midway Commercial differs in prices because of location and floors. However, the rental value of these shops is almost the same as that of offices in B Side.
Development Updates
Midway Commercial B-Side infrastructural work is complete. The construction status at this project is 50 – 60%. Many of the plazas are complete while several are developing.
Investment in Midway Commercial Karachi
Buying in Midway Commercial Bahria Town Karachi is ideal for business and investment. But it returns more when your purpose of buying is rental gains. For example: if you buy a villa of 200 sq yards in Bahria Town Karachi, it will cost you between 2.10 crores to 3 crores. The monthly rental value of these villas is around 75 thousand. On the other hand, you can buy the best offices or shops on ground floor in Midway Commercial and can enjoy handsome rental income of 2.50 lacs to 3 lacs per month.
There are no parking issues, the location of this project is prime. Moreover, different food chains are operational in the surroundings.
Please contact Universal Property Network For More Information click here or visit our youtube channel further assistance