Low- Budget Ready to Move Properties in Bahria Town Karachi
by UPN
May 19, 2020
0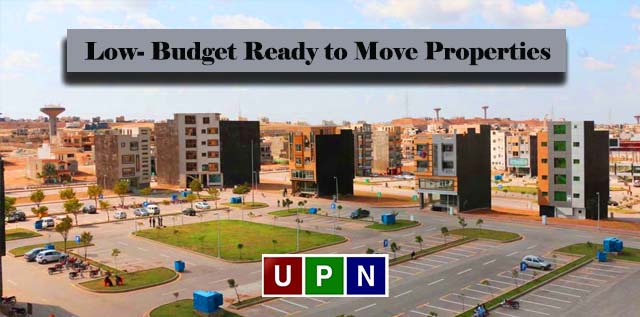 Bahria Town Karachi, a master-planned housing society, is known to be an ideal place to buy property in the city of lights. It is featuring the best properties both in residential and commercial categories. These properties are available in different price ranges, and numbers of options are available to choose from. The demand for residential plots is increasing day by day. But at the same time, the demand for low-budget ready to move properties in Bahria Town Karachi is never-ending. If you are also interested, here check the details below!
Best Villas For Sale in Bahria Town Karachi
Bahria Town Karachi is offering different sizes of ready to move villas in it. These villas are located in different precincts and are available in different sizes. The prices of these villas are also different as per area covered, location and also depends on development work.
The best, ideally located and highly-recommended villas in Bahria Town Karachi are Precinct 10A and Precinct 11A Villas.
Both precincts, Precinct 10A and Precinct 11A, are featuring the ideal villas of 200 sq. Yards. Precinct 10A villas are beautifully developed. The development work of all villas is almost complete. Around 400 families are also living happily in them. This precinct is located at a distance of 7 to 8KM from the main gate of BTK.
The average prices of Precinct 10A villas are 1 crore to 1.30 crore.
Similarly, Precinct 11A are also best to invest. Villas with keys and without keys are also available.  These villas are both available with keys and without keys. The starting price of 200 sq. Yards villa in Precinct 11A is 1.08 crore to 1.27 crore.
125 Sq. Yards Villas of Precinct 11B
Another affordable option to make a smart investment in villas is Precinct 11B. This precinct is offering 125 sq. yards villas for sale. Some of these villas are ready and available with keys. However, few of them are available in the grey structure. The starting price of these 11B villas is 75 lacs to 85 lacs. The cost of the villa depends on its development status.
 2 Bedroom Apartments in Precinct 19
If you are looking to buy the best ready to shift property in Bahria Town Karachi, then you can smoothly go for two-bedroom apartments in Precinct 19. These two-bed apartments are available from Tower 1 to Tower 26. The prices of these apartments are different as per the location. However, these are the best-designed apartments to live while enjoying all the luxuries of Bahria Town Karachi.
For further details, contact Universal Property Network!
Check out our site for more detail. Latest News