Midway Commercials – Latest Updates 2020
by UPN
March 22, 2020
0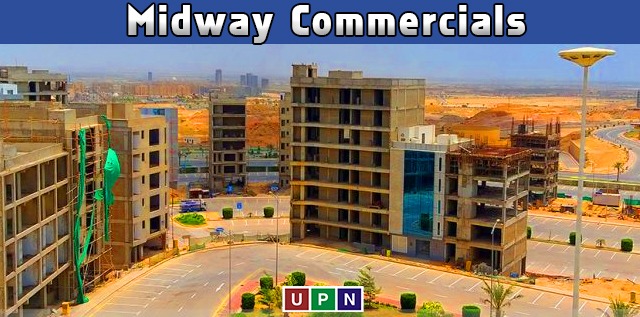 Bahria Town Karachi, the mega housing society is offering numerous options in residential and commercial properties. It is a place where you can buy residential plots, villas, houses, and apartments for sale as hundreds of options are available for you. But when it comes to buying the best commercial property in Bahria Town Karachi, Midway Commercials is the first-appealing choice.
It is the very first, most important commercial hub of Bahria Town. Located close to the main entrance of the society, it is a properly-developed commercial zone. Here you can buy commercial plots as well as commercial offices for sale. In simple words, Midway Commercial is a perfect place to start your business and to earn regular rental income with a smart investment.
Midway Commercials Bahria Town Karachi is divided into two sides, A-side and B-side. Both of these sides are beautifully developed and offering possession properties for sale.
Here check the complete details below:
Location of Midway Commercials Bahria Town Karachi
As the name depicts, Midway Commercials are located in the mid of Bahria Town. These are located at the prime location of the society. Midway Commercial is located at the distance of only 4 KM from the main Bahria Town Gate. Moreover, it lies in front of Precinct 6. In addition, Liberty Commercials are also located close to it.  While traveling from the main entrance to Midway Commercials, it's A-side is located on the right side and B –side is located on the left.
Properties for Sale in Midway Commercials
Midway Commercials are divided into two sides, A side and B Side. Both of these commercial sides are offering commercial plots of 125 sq. yards and 250 sq. yards. Bahria Administration has allowed the construction Ground +06 floors elevation on the small size of commercial plots; however, you can construct Ground +08 floors on bigger sizes of commercial plots.
Anyone can construct a commercial building for plazas, banks, different brands, public building or whatever he wants to construct on his Midway Commercial's property.
Current Development Status & Possession Details 2020
Midway Commercials is a developed area. You can see the construction of hundreds of buildings on the site. Moreover, numbers of buildings and offices are also operational in Midway Commercials Bahria Town Karachi.
Why Consider Midway Commercials In Bahria Town Karachi?
Midway Commercials is the most appealing commercial property option in Bahria Town Karachi. The society's head office is located in Midway Commercials. Different well-known projects and offices of different firms are also located in these commercials. In addition, the location of these commercials is also a value-added point. It is easily accessible and already developed. So, if you are looking to make a safe, smart and profitable investment in Bahria Town Karachi, choose Midway Commercials.
For more details, contact Universal Property Network!
Check out our site for more detail. Latest News