Legal and Profitable Properties in Bahria Paradise and Bahria Sports City
by UPN
March 14, 2020
0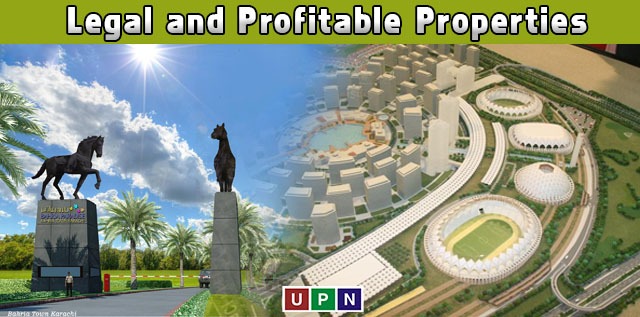 From the last few months, Bahria Paradise and Bahria Sports City is a center of discussion due to some disputed properties. However, at the same time, both of these sub-projects of Bahria Town are featuring the most profitable properties for sale. So, the main concern of interested investors is which properties are legal and good for investment? Is really making the investment in Bahria Paradise and Sports City is profitable?
So, here in this latest blog, we will share the complete details of the profitable properties available in both of these projects. Moreover, we will also update you on the current development status and current prices of these properties. Let's explore these details together!
Legal/Disputed Properties in Bahria Sports City
Bahria Sports City Karachi is starting from the Precinct 34 to Precinct 45.
Precinct 34 is featuring the residential plots of 250 sq. yards. It is a completely developed precinct. All of these plots are legally approved and possession is also available. Precinct 35 is offering the villas of 350 sq. yards. It is also a developed precinct of Sports City. It is already populated precinct. Precinct 36 comprises 500 sq. yards and 1000 sq. yards plots. The development work is 100% completed.
All of these precincts are located on Main Jinnah Avenue. These are located opposite to Eiffel Tower in Bahria Town Karachi.
Precinct 37 is a partially developed precinct. Its 40% development work is complete and the remaining is not the property of Bahria Town.
Precinct 38 and Precinct 39 are featuring the plots of 1000 sq. yards. Both of these precincts are not yet developed.
Precinct 40 is around 30% to 40% developed and it is offering 250 sq. yards. Now comes to the details of Precinct 41 to Precinct 45, these five precincts are comprising the most disputed properties of Bahria Sports City.
Legal/Disputed Properties of Bahria Paradise
Bahria Paradise is starting from Precinct 46 to Precinct 58.
Precinct 46 is not developed yet. Precinct 47, Precinct 48, and 49 are partially developed precincts. The developed areas of these precincts are available with possession. Precinct 50 is offering 500 sq. yards plots. It is an 80% developed precinct. This precinct is offering the best 500 sq. yards plots for sale in Bahria Paradise.
Precinct 51 is featuring the 500 sq. yards luxury villas and plots. Around 10% of the development work of plots is done. However, luxury villas are 100% ready.  Precinct 52 and Precinct 53 are located outside the boundary wall. Precinct 54 is one of the best precincts of Bahria Paradise. It is offering both the plots and apartments for sale. This precinct is also designed with Bahria Central Park.
Precinct 54 is also a partially developed precinct. Furthermore, Precinct 55 and Precinct 57 are non-developed precincts. Precinct 58 is offering the plots of two categories. However, this precinct is not developed yet. However, some development work is completed in Precinct 56.
Conclusion: Not all the properties in Bahria Paradise and Bahria Sports City are disputed. The details of all precincts are provided to you so that you can confidently choose the desired properties for you.
For more details contact Universal Property Network!
Check out our site for more detail. Latest News