Midway Residency – A New Project in Bahria Town Karachi
by UPN
January 30, 2020
0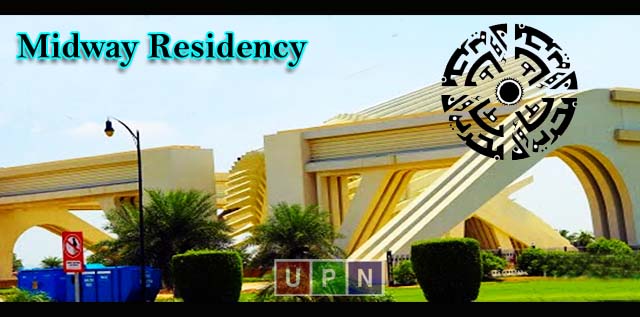 Midway Residency is a newly-launched multi-purpose project going to develop in Bahria Town Karachi. It is a smartly planned real estate project by the authorize Private Builders of Bahria Town. This is an ideally located project that is featuring different properties for sale in it. All these properties are affordable and the developers are also offering easy installments plan for the ease of investors.
Let's discuss some further details of Midway Residency Bahria Town Karachi!
Location of Midway Residency
Midway Residency is a fabulous project developing on the plots of Liberty Commercials.
Liberty Commercial is one of the most attractive projects offering 265 sq. yards plots for sale. These are ideally located commercials of Bahria Town Karachi. Liberty Commercials is located close to the Head Office of Bahria Town.
Further, this newly –launched project will be built by combining the four plots of Liberty Commercials. Midway Residency will be developing on Plot No: 250, 251, 252, and 253.
Moreover, this project is ideally surrounded by so many attractions such as Midway Commercials, Cine Gold Cinema, and the Five Star Hotel of Bahria Town Karachi.
Property for Sale in Midway Residency
This is an international standard, state of the art project by Private yet the Authorize Builders of Bahria Town. Midway Residency is a multi-purpose project offering shops, offices, as well as apartments for sale in it.
Here you will find both the commercial properties and residential ready to live properties at the best prices. According to some recent updates, the project is offering 1 and 2 Bedroom residential apartments in it.
It is important to mention here that Bahria Administration has approved the construction of Ground +08 floors elevation in Liberty Commercial.
Midway Residency & Disputed Plots Merging Option
If you are one who desires to get rid of his disputed property of Bahria Paradise or Bahria Sports City and looking for the best property merging option, we can confidently consider Midway Residency.
It is a very well-planned and completely approved project. Here you will find different properties at the best prices. Moreover, all these properties are also available with flexible payment plans.
The best thing about the project is that it is offering a 100% plot merging option in it. It means the total amount of your disputed plots will be merge in the legal/approved property of the Midway Residency. Further, the remaining amount will be payable in easy installments. So, don't sell your properties at the lowest prices and merge them with the best properties to earn the best returns.
Development Status of Midway Residency Bahria Town Karachi
The development work of Midway Residency is soon going to begin. It is expected that the development work will begin at the start of February 2020. Moreover, if there will be any announcement or update regarding development, we will definitely share it with you!
Stay updated with Universal Property Network!