New Deal of Plots in Precinct 16 Bahria Town Karachi
by UPN
December 30, 2019
0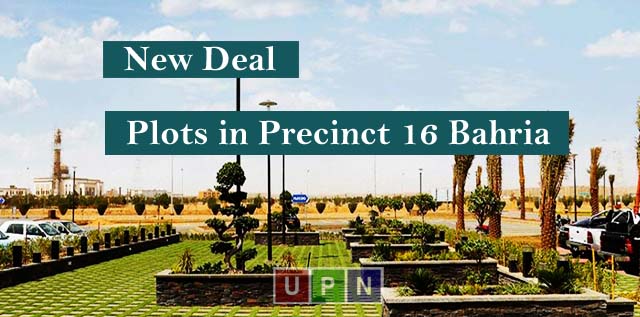 Bahria Town Karachi is a wonderful option to invest in different residential, commercial, and ready to move properties. Comprising many precincts, it is a place with numerous properties at different prices. However, the administration of Bahria Town has recently launched a new deal of 250 sq. yards plots in Precinct 16. This precinct is already an attractive choice of modern investors, but with the launch of this new deal of plots, its value is further increased.
Precinct 16 – An Overview
This precinct is among the top most attractive choices to buy reasonable plots of 250 sq. yards. Development work of this precinct is already done. Moreover, the construction of many houses is also beginning. Possession is announced so far, indeed, these newly-launch plots are also available with possession.
New Deal of Plots in Precinct 16
Yes, Bahria Town has launched a new deal of 250 sq. yards plots in its Precinct 16. These are fully developed, possession plots. In addition, these plots of 250 sq. yards are available on Open Forms. It means no transfer fee will be charged to you.
The prices of the plots are reasonable and the best to invest. You will find an affordable plot of 250 sq. yards at the price range of 40 lacs to 55 lacs. Actually, the prices of plots are different as per location. Indeed, category plots are also available in this new deal.
Location of Precinct 16 & Attractions
Precinct 16 is located at the Main Jinnah Avenue. It is positioned in Front of Grand Jamia Mosque.  Theme Park is located attached to it. Bahria Paradise is located at the back of it. Moreover, the villa of Ali Riaz is also lies in the proximity of this precinct.
In simple words, all the four corners of Precinct 16 are surrounded by amazing attractions.
Investment Potential
Precinct 16 is currently offering the most affordable plots of 250 sq. yards. The prices are reasonable and plots are available on Open Forms. Actually, these plots are re-launched by Bahria Administration that's why the prices are less. Previously, the same plots were available at the price range of 60 lacs to 70 lacs. But now these fully developed plots will cost you around 40 lacs to 50 lacs.
So, this is the right time to make investment in Precinct 16. It is important to mention here that these are the limited numbers of plots that will be served on first come first serve bases.
The possession of the plots is already available so you can easily start the construction of your house. Moreover, you can invest to earn huge returns in next 1.5 year to 2 years.
If you are interested in buying the 250 sq. yards plots in Precinct 16 – Bahria Town Karachi. Just contact Universal Property Network.