Where to Invest in Bahria Town Karachi? – Best Options
by UPN
November 26, 2019
0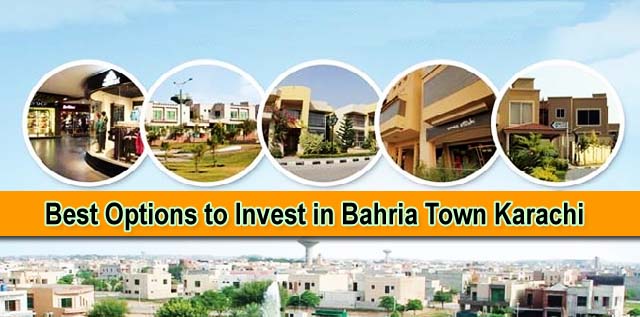 Bahria Town Karachi
Whenever we plan and discuss to invest in the real estate of Karachi, the very first recommendation is Bahria Town Karachi. This mega housing venture is a boon for real estate investors in Karachi. Bahria Town is a brilliant real estate project with numerous investment opportunities.
So, as mentioned above, everyone wants to invest in Bahria Town Karachi as it is offering a high return on investments. If you are also looking to avail of these profitable opportunities, just read this blog to find more.
Today, we will discuss the most attractive investment options for both medium-scale investors as well as for large scale investors.
Medium-Scale Investors
Investors looking to invest in the best properties in Bahria Town Karachi, where they can earn good returns can consider buying in the plots available for sale in Precinct 2. The beautifully constructed Quaid Villas and Iqbal Villas are also offering ideal investment opportunities for medium-scale investors. Especially, the re-launched villas of Precinct 2 are reasonable to invest. Moreover, you can also invest in Precinct 10 villas and Precinct 11 villas that are high in demand.
After the re-launch of villas in Precinct 2 and the residential plots, the prices of properties in these precincts are decreasing. When the market was at its 200 sq. yards Quaid Villa was priced at around 20 million. However, now you can easily the same villas at the price of 1. 35 crores to 1.50 crore.
It is recommended to make the investment in these villas. Once all of these villas sold out, the prices are expected to rise again in about 6 to 8 months.
Similarly, 150 sq. yd. villas Iqbal Block is currently available at the price of PKR 13 million. When the prices at its' peak, the same property was priced between 14 million to 17 million. So, definitely it is the right time to invest and to earn the best returns.
Moreover, the medium-term investment will be best to consider in the re-launched plots of 125 sq. yards in Ali Block. The demand for these plots in Precinct 12 is very high that's why the prices were at the peak. But after the re-launch of some plots, now you the plot will cost you between 32 lacs to 40 lacs.
Indeed, Villas of Precinct 10 and Precinct 11 are ideal for safe, secure, and profitable investment.
Investment Options for LongTerm Investors in Bahria Town Karachi
Currently, there are four best options available for large-scale investors in Bahria Town Karachi. These profitable options are:
Bahria Golf City
Farmhouses available in Different Precincts
Commercial Plots
Bahria Central Park Apartments
First of all, 500 sq. yards plots for sale in Bahria Golf City are ideal to get high returns. These plots were launched at a price of 8.5 million. However, now the asking premium on these plots is 15 million to 20 million.
1,000 sq. yd. plots can also be considered for long-term investment in Bahria Town Karachi. These plots were launched at the price of PKR 15.5 million. Now the asking premium on these plots can be as high as PKR 30 million. It is clear that the prices of these plots will increase more.
The well-planned farmhouses of 1-acre (4000 sq. yd.) in Bahria Town Karachi were launched at a price of PKR 40 million. Now the asking premium on these farmhouses hovers around PKR 31 million.
The recently launched apartment project in Bahria Paradise is a great investment opportunity to avail. Currently, these apartments are available on easy installments. The prices are affordable and the development work is already started. Just like the other projects of Bahria Town, we can expect the on-time delivery of Network these apartments as well.
Check out our site for more detail. Latest News
So, don't wait and contact Universal Property Network to get the best investment deal of your dreams.