New Residential and Commercial Deals Bahria Orchard Lahore
by UPN
November 20, 2021
0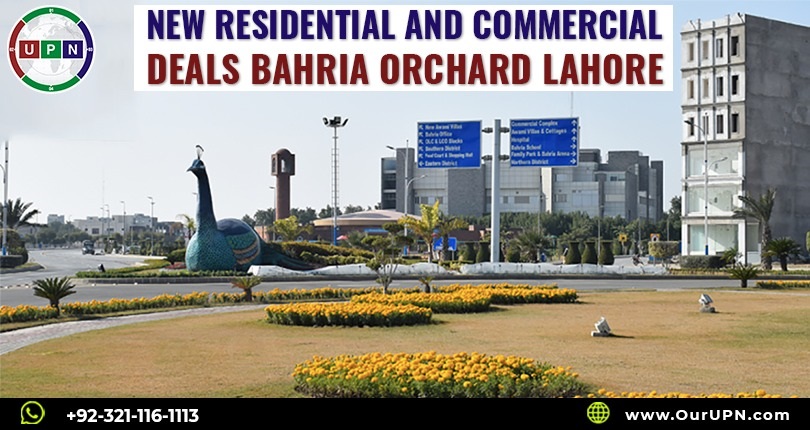 Bahria Orchard Lahore is a housing society where everyone desires to invest. It's a beautiful, luxurious development by Bahria Town but offers properties at budget-friendly rates. This society is among the top perfect options on Raiwind Road Lahore, where residential and commercial plots are attractive. Bahria Orchard Phase 2 Commercial Plots are available wide in range. At the same time, numerous options are available in constructed properties.
Additionally, new and exciting residential and commercial deals are launched in Bahria Orchard Lahore in different phases. But the one block where the best plots on open forms are available is OLC A Block. The details of investment opportunities in Bahria Orchard Phase 2 are:
Residential Plots in Bahria Orchard Lahore
Bahria Orchard Phase 2 offers 5 Marla and 8 Marla residential plots in abundance. The prices of these plots start from 38 lacs to 75 lacs. The difference in the prices is because of the location, development, and surroundings. However, the new deal plots are launched in OLC, a perfectly developed Block, a beautiful block in Phase 2.
It is easily accessible from Gate no 1and the location lies close to Arena Cinema, Broadway Heights and Bahria School.
Moreover, the prices are affordable and available on open forms. The launching prices of 5 Marla plots are:
The price for 5 Marla General Plots is 60 lacs
5 Marla Category Plots Prices are 62 – 65 lacs
Booking of plots starts with a 50% down payment and the remaining amount in 2 months.
Bahria Orchard Phase 2 Commercial Plots
Another good deal of plots but in the commercial category is launched in OLC A Block. For example, Bahria Orchard Phase 2 commercial plots are 3 Marla and 5 Marla.
These are ideally located on a 200 ft wide road. Moreover, 3 Marla commercials are two-sided open. The launching prices of new commercial deal plots are:
3 Marla Commercial Plots: 1.20 crores
5 Marla Commercial Plots: 2 crores
These commercial plots for sale in OLC A Block can be booked on lump-sum payment only. However, you can get a time of 1 week after paying token money.
Bahria Orchard new commercial plots are attractive enough to:
Setup Your Business
Ideal Investment and Growth
Construction and Rental Gains
Bahria Orchard Plots on Installments
All the phases of Bahria Orchard Lahore are beautifully developed, have possession and a good ratio of inhabitation. The plots for sale in this society are also available in full cash. So, what to do if you desire to buy the best plots on installments? Then, get it now as some of the best options are still available for you.
The plots on installments in Bahria Orchard Lahore are available in:
LCO Phase 2 K Block Extension
It's a new extension, a new block launched in Bahria Orchard Phase 2. This block is easily accessible from Gate no 6. Moreover, one can also approach it from Raiwind Road Bahria Orchard Phase 2 Block D.
The new deal plots on installments are 5 Marla in the sizes. Plots prices and booking details are:
42 lacs to 43 lacs for Boundary Plots
44 lacs to 45 lacs for General Plots
46 lacs to 47 lacs for Category Plots
Booking starts with 15 lacs and 15 lacs within 2 months. The rest of the amount after 2 months. Moreover, the installment plan of these plots spans over 4 months.
Benefits of Investment in New Deals
Investment in real estate is always beneficial; moreover, buying in a society like Bahria Orchard Lahore has many benefits. But if you invest in new residential plots deal or commercial plot deals, you will get the following prices:
New Deal Plots are Low in Prices
Have Ideal Location Which Attracts More Buyers and Investors
Availability on Open Forms. It Means No Transfer Fees or Hidden Charges
Most of the Options on Booking. It Suggests You Will be the First Owner of Your Plot
High Investment Potential
Good Property by Paying Less
Prices Increase with Increasing Development and Inhabitation
Other Bahria Orchard Phase 2 Commercial Plots and Residential Options
Bahria Orchard Phase 2 is a completely developed society where you can invest in numerous options. The plots for sale there come with a lot of benefits. Buying there is good for residential purposes as your life will be like spending time in the womb of amenities. Moreover, the demands for commercials are also high. The other commercial plots sizes in Phase 2 are starting from 2 Marla up to 8 Marla. Anyone can also invest in offices and shops. Furthermore, the residential options are available in:
Apartments
Houses
Villas
So, what are you thinking about? Do invest in Bahria Orchard Lahore new residential and commercial plots deals to be happy and satisfied with your real estate investment.
Please contact Universal Property Network For More Information click here or visit our youtube channel further assistance