Pakistan's Tallest Building Bahria ICON is Near Completion
by UPN
October 18, 2017
0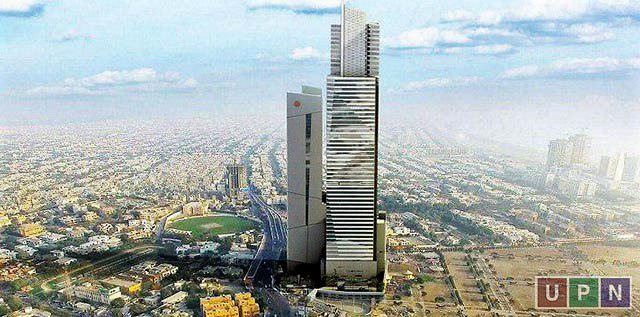 Bahria Town Icon (also called Bahria ICON), Pakistan's tallest building is all set to get completed soon in next year. The 62-storey tower has reached to its structural completion and now interior work is in progress at fast speed. A flagpole has been installed at the 62nd floor of the skyscraper marking the accomplishment of construction officially. Mall of Karachi, the mega shopping mall in this mixed-use building, is expected to open by the start of 2018.
Special Achievement of Bahria ICON
With grey structure completion, Bahria Town ICON has entered to Tallest Building Club of South Asia (300m & above). Ranked 2nd in the list, it's indeed a great honor for Bahria Town to register Pakistan into this category.

Bahria ICON – The Structure
Bahria Town ICON takes living, working and recreational sophistication to an extra height. Having the most advanced infrastructure, this complex is the marvel of modern high-rise setting. Standing at premium location of Karachi on Shahrah-e-Firdousi next to Abdullah Shah Ghazi Mazar, it is actually comprised of two conjoined buildings.
62-Storey Tower (Corporate Offices)
The 62-storey tower is mainly for corporate offices with provision of 24/7 maintenance services. This business center is equipped with state-of-the-art facilities which are required for working possibilities. The ultra modern IT and communication system has been set up to make these offices well versed with latest tech innovations.
42-Storey Tower (Residential Apartments)
This 42-storey adjacent tower of Bahria ICON is dedicated for 1, 2 and 3-Bed residential apartments offering residential luxury with mesmerizing views. Summit and Altitude, Pakistan's highest rooftop dining and highest terraced restaurants respectively, will be featuring panoramic sights of the city from here.
The Mall of Karachi will be a grand shopping arena with a number of local and international brands encased inside Bahria Town ICON. Multiplex cinema, food court, fine-dining restaurants will be part of this mega mall all under one roof.

Salient Features & Amenities:
Dedicated Halls and Meeting Rooms for Corporate Gatherings
•    7 Basement Levels for Parking (Accommodates 2,300 vehicles approximately)
•    Advanced Security System
•    100% Backup Power Generation (No Load- Shedding)
•    First Building That Gone Through Wind-Tunnel Tests
•    High-speed Vertical Transportation
16 Region's Fastest Double Decker Lifts (7.5 m/s)
Booking for retail shops and offices is open on first come, first served basis. First you will have to register yourself as member for Bahria Town ICON because only registered candidates are eligible for booking. Exact location can be selected from the floor plans available there.
For further assistance regarding property investments in Bahria Town Karachi projects, contact us for consultation. Keep visiting Universal Property Network for latest updates of real estate sector.