Perks of Living in Bahria Town Karachi
by UPN
December 2, 2019
0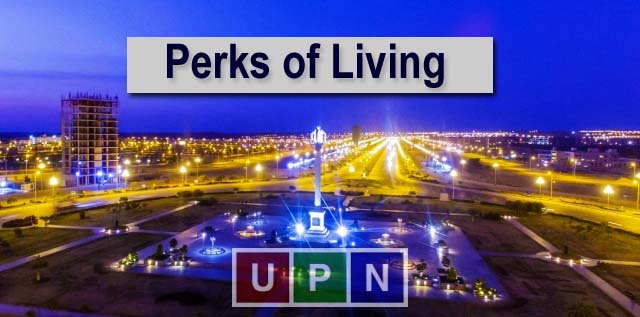 Bahria Town Karachi, the mega housing project in Pakistan has grown by leaps and bounds. Being the largest housing society in Karachi, Bahria Town has the capacity to accommodate over a million residents in it.  Here you can buy the best residential plots for sale in Karachi as well as numbers of constructed properties.
It is a place offering a luxurious lifestyle. Thanks to the wide range of facilities available in Bahria Town that makes it the most attractive choice to live.
Although it is located far from the city, still these amenities attract both investors and residents to be a part of it. So, why not discuss these world-class facilities and features available in Bahria Town Karachi.
Amenities Available in Bahria Town Karachi
Prime Location
Gated Community
24/7 Security
Standard Educational Institutions
Availability of Transport
Best Healthcare Facilities
Other recreational amenities
Let's discuss the details of these facilities one by one:
Prime Location of Bahria Town Karachi
People who desire to live away from the hustle and bustle of the city life can confidently choose Bahria Town Karachi. This society is located on M9 Super Highway. New Jinnah International Airport is located at the drive of 40 minutes.
Nearby Areas of Bahria Town Karachi
Fiesta Family Water Park is just a 27-minute drive away from Bahria Town
Cozy Water Park in roughly 35 minutes away
Farmville Resort and Gul Mohar Golf Club (Malir Cantt) also lie close to Bahria Town.
Where to Invest in Karachi? – Best Options
Secure Gated Community
Bahria Town Karachi is a well-planned housing project that is far from the crowd of the main city. It is a beautiful, gated community where you will find peace, comfort, and all the luxuries that anyone can desire.
24/7 Security
Living in Bahria Town Karachi is a secure and peaceful choice. Yes, thanks to its 24/7 security. There are no security issues in Bahria Town Karachi. The well-trained and resourceful security staff of Bahria Town ensures complete security within the project.
Standard Educational Institutes
Bahria Town Karachi is a place where you will be facilitated in each and every aspect of life. This is the first-class housing venture offering standard education facilities to its residents. Bahria Town Karachi has established its own colleges and schools. Moreover, residents of Bahria Town can get their children enrolled in Roots Millennium School.
Availability of Transport
The residents of Bahria Town Karachi have quick and easy access to the main zones of the town as the project has its own bus service. These buses travel for Sohrab Goth as well as to Malir Cantt. So, this is clear that there are no major transportation issues in Bahria Town Karachi. Th
Best Healthcare Facilities
Bahria Town Karachi is offering an advanced healthcare hospital where experienced medical staff is offering the best treatments. It's a 120-bed hospital with a 24/7 emergency room, internationally trained doctors and technicians. Indeed, the entire hospital is equip with modern machinery.
Other Amenities at Bahria Town Karachi
Bahria Town Karachi also includes:
Mini Formula-1 Track
Dolphin Area
Sheraton Golf and Country Club
Bahria Night Safari
Carnival Area
Arab/Turkish Cuisine and Fast Food Restaurants
Grand Mosque Bahria Town Karachi
Day and Night Zoo
Bahria Adventure Land & much more!
New Exciting Deals of Plots, Villas, & Apartments in Bahria Karachi – Latest Updates
For more details, latest news, etc. please visit our YouTube Channel:
Stay updated with Universal Property Network