Possession & Non- Possession Areas in Old Bahria Town Karachi
by UPN
February 19, 2020
0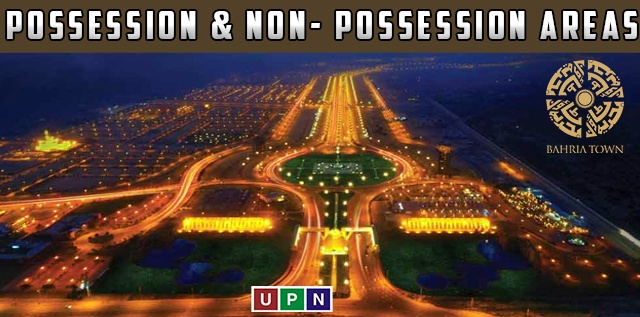 Bahria Town Karachi is the biggest housing project by Bahria Town Limited. It comprises many precincts known as Old BTK as well as 3 sub-projects, Bahria Sports City, Golf City, and Bahria Paradise. These subprojects are also featuring many precincts in them. Overall, Bahria Town Karachi is a home to buy numerous properties for sale.
It is the first-preferred option whenever it comes to making an investment in the real estate of Karachi. But unfortunately, society is also featuring some disputed properties which have no physical value or not good for investment.
Possession And Non-Possession Areas in Old BTK
However, at the same time, the possession of properties in many precincts is completely announced so far. In addition, the possession in some precincts is available partially. Indeed, there are many precincts that are waiting for possession and will be handover soon.
So, if you are also wondering to know that which properties/precincts of Bahria Town Karachi are available with possession and which are not? Just keep reading this latest write-up!
First of all, we will discuss the disputed/non-possession areas of Bahria Town Karachi


Disputed Areas – No Possession will Be Handover
Precinct 23 A
Its expected location was at the back of Precinct 37 and adjacent to Precinct 25. These precincts were announced with the villas of 200 sq. yards and 125 sq. yards. But unfortunately, this precinct is located outside the boundary wall and there is no development progress in it. Moreover, Bahria Town has also banned the sale and purchase of property in Precinct 23 A. You can also merge your properties in the available options.
Precinct 25A and Precinct 26 A comes under disputed area and Bahria Town is no more owner of that land. Merging options is available.
Precinct 26
Most of the area of Precinct 26 is well-developed but there are some disputed properties as well.   Bahria Town is no more owner of that disputed land so, cut down it from the map. However, the possession of the remaining precinct is not yet announced and the same merging option is available for disputed plots.
Precinct 29 A, B, C and D
These precincts were basically announced to facilitate the awaiting members of Old Booking of 2014. The expected location of these precincts was at the back of Precinct 29. However, these precincts do not physically exist and Bahria Town had also banned the sale and purchase of property in it.
Precinct 32 A, B, C, D and Precinct 33 A, B, C, and D
Same as the sub-precincts of Precinct 29, these sub-precincts of Precinct 32 and Precinct 33 do not exist physically. Bahria Town has constructed a boundary wall over their expected locations and no sale or purchase of property is allowed. There is no development of these precincts.
Valley Blocks (A, B, C, and D)
These blocks do also not exist physically. You can also merge your properties or Bahria will compensate you other properties may be in new precincts.
Ready for Possession /Legal Areas in Old BTK
The area of Bahria Town Karachi that is ready for possession and legal are:
Precinct 1, Precinct 2, Precinct 3, Precinct 4, Bahria Hills, Ali Block, Precinct 10A, and Precinct 10B
Precinct 14, Precinct 15 and 15A, Precinct 27, Precinct 27A, Golf City, Precinct 20A, Precinct 29, Precinct 30, Precinct 32 and Precinct 22.
Precincts in Which Possession is Partially Available and Also Have Disputed Land Issues
Precinct 23 comprises two parts. One part is ready for possession, the second area is developing and soon Bahria Town will announce possession there.
The backside area of Precinct 28 is not develop and not a land of Bahria Town, so the merging option is available.
Precinct 29 is featuring 500 sq. yards plots same as Precinct 28, the plots at the back of this precinct no more exists. Bahria Town will compensate the affectees with plots in new precincts.
For more queries and any information contact us!
Stay Updated with Universal Property Network.