Precinct 18 Bahria Town Karachi – Peaceful Atmosphere with Unmatched Facilities
by UPN
December 24, 2018
0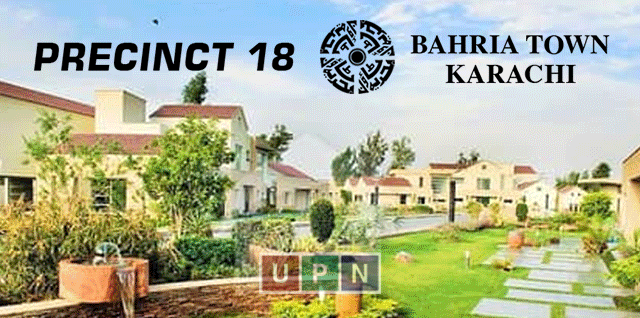 Every Precinct of Bahria Town Karachi holds some special qualities in it. But when it comes to the description of Precinct 18 Bahria Town Karachi, it would not be wrong to state that it is containing beautiful landmark features and countless facilities as well. The basic development work is almost completed. Work on street lights, street infrastructure, underground drainage system, water tanks and electricity is almost completed.
Basically the plot cuttings of 1000 sq. yards, 2000 sq. yards and 4000 sq. yards are available in Precinct 18. This precinct is so impressively designed at the amazing location with top-class facilities that ensure lifestyle guarantee of secure and high standard living. So let's check out the further details of Precinct 18 given below.
Precinct 18 Bahria Town Karachi – Location Overview and Attractions
Precinct 18 is located at the outstanding location of Bahria Town Karachi. This precinct is located close to Overseas Block, Precinct 1 and Theme Park. Precinct 18 is easily accessible from 120 ft. wide Main Jinnah Avenue. There amazing location and mind-blowing attractions in the surroundings make this block the ideal choice for buyers.
Some of the most beautiful attractions located close to precinct 18 that amplifies the investor's attraction is the Theme Park. This International standard theme park is now open for the families and it's really a wonderful enjoyment place for the residents of Bahria Town Karachi. On the other hand, there is a proper community center, Green valley supermarket, and a mosque is the part of Precinct 18.
Precinct 18 – Latest Plots Prices
Precinct 18 magnifies the attraction of investors with the large plots cuttings available in it. The plots of 1000 sq. yard, 2000 sq. yards and 4000 sq. yards are the part of it. The latest plot prices for the 1000 sq. yards plots are 90 lacs. The starting price of the 2000 sq. yards plots are 2 crores to 2.15 crores. The plots of 4000 sq. yards are available at the price bracket of 2.60 crores. These residential plots in precinct 18 are available on full cash payment as well as easy installments plan.
Having the option of easy installments is definitely a great thing for investors to get the most attractive residential plots in Bahria Town Karachi without having any burden. So let's avail the chance and book your plot in Precinct 18 as soon as possible.
For more updates stay connected to Universal Property Network