Precinct 42 Bahria Town Karachi – Latest Updates by Universal Property Network
by UPN
December 24, 2018
0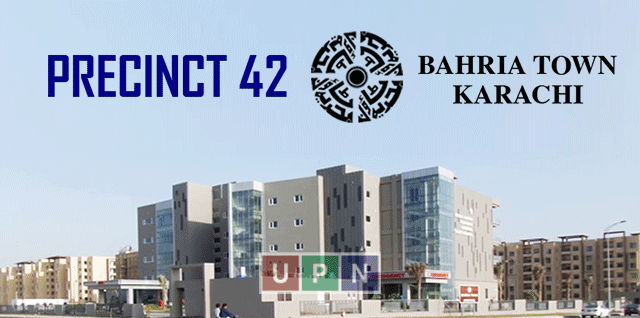 Bahria Town Karachi is the master plan that is all designed to provide you with all the latest facilities and dreamed luxuries at the one place. Bahria Town Karachi is now going through the development pace. As it is divided into many precincts, some of them are properly developed and inhabited while some are under development. Same like that, Precinct 42 Bahria Town Karachi is also going through the development process. Basically, the plots cuttings of 500 sq. yards and 250 sq. yards are the part of it. The prices of the plots are affordable. These plots are available on easy installments and will be on soon on the ground.
Precinct 42 is providing an amazing opportunity for investors for making an investment at the right time. These plots of Precinct 42 Bahria Town are best to invest and get the handsome return that you always dreamed with the investment of 3 years to 4 years. Today, we are going to share with you all the latest updates of Precinct 42 especially the plots of 250 sq. yards such as the location, updates prices, and investment potential as well.
Precincts 42 – 250 Sq. Yards plots in Bahria Town Karachi
These plots of 250 sq. yards plots in Precincts 42 are providing a great chance to buyers and investors to earn a handsome profit in short-term of investment. The ideal location and the development process make these 250 sq. yards residential plots a right choice to invest. You can buy these plots to build your dream residency where you can enjoy all the facilities provided by Bahria Town Karachi.
Precinct 42 is a wonderful opportunity for interested clients who desire to build their dream home at a beautiful place without more consumption. These plots are ideal in investment point of view as the investment will be safe and definitely profitable.
Precincts 42 Bahria Town Karachi – Ideal Location
Precinct 42 is ideally located in Sports City Bahria Town Karachi. Rafi Cricket Stadium is one of the main attractions to this precinct. Recently Bahria Town has launched a Valley Block close to it that is the value-added point for Precinct 42 as well.
Precinct 42 250 Sq. Yards Plots – Updated Prices
This precinct is all designed with modern infrastructure and International lifestyle that is associated with the trademark of Bahria Town. Precinct 42 is comprised of the plots cuttings of 250 sq. yards and 500 sq. yards in it. These plots of 250 sq. yards were launched at the easy installment plan of four years. But these are exclusively available on full payment as well.
The launching price of these plots was 36.5 lacs. The quarterly installment of the plots is 2.18 lacs. Almost 10 to 11 installments of the 250 sq. yards plots are already paid. So it is the right time to get your plot in Bahria Town Karachi at the easily affordable rates.
Universal Property Network is an authorized dealer of Bahria Town Karachi. For any details and updates contact us.