Precinct 34 Bahria Town Karachi – Latest Development Updates and Prices
by UPN
December 24, 2018
0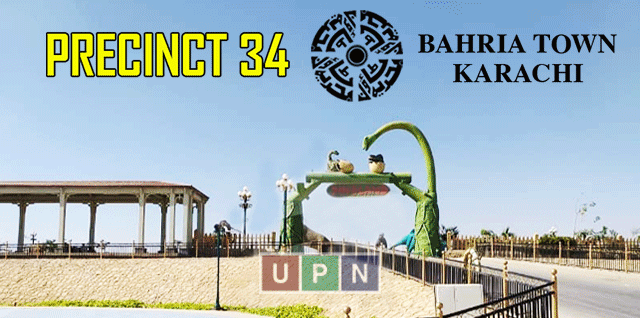 Precinct 34 Bahria Town Karachi is one of the best precincts among the many other precincts with a status of completely developed. This precinct is providing once in a lifetime opportunity to invest in the reasonable plots. Precinct 34 is beautifully designed with International Standard living style and all the up-to-date facilities that can man can imagine in his residence.
The development of Precinct 34 in Bahria Town Karachi is completed and all the plots are on the ground. There are only one category plots that are 250 sq. yards plots available in it. Precinct 34 is catching the attraction of investors especially after the contract of Bahria Town with ARY Group for the construction of their villas in it. This precinct is located close to Rafi Cricket Stadium Karachi that adds value to the property of this precinct.
Precinct 34 Bahria Town Karachi – Location Overview
Precinct34 is located at the Main Jinnah Avenue. From the front, this precinct is all adjacent to Rafi Cricket Stadium and from one side it is connected with 400 ft. wide Main Jinnah Avenue. Just after the completion of Rafi Cricket Stadium Karachi, the prices of the plots available in it will definitely boost up.
Development Status and Possession Updates
The development of Precinct 34 is almost completed. The work on road infrastructure, street lights, work on the drainage system, electrification is complete. All the plots are on the ground and will be available to you with plot numbers. As the development is completed, the possession of the plots is expected to be announced in the next few months.
Latest Prices of the Plots
Precinct 34 is all comprised of 250 sq. yards plots in it. These plots were launched about 4 years ago. These plots of 250 sq. yards were launched on the easy installment plan. Now there is an own price of 12 lacs to 20 lacs. The prices of the plots are different as depending on the location.
Residence and Investment Options in Precinct 34
Precinct 34 is considered an ideal place to invest and to get maximum profit with minimum investment. This precinct is all comprised of 250 sq. yards plots that are completely developed and have own price on them as well. This precinct is best one for residency as all the basic facilities are already provided to the precincts located close to it. Making an investment in Precinct 34 will also a beneficial decision to get the handsome profit with the investment of 2 years to 3 years in it. So avail this amazing opportunity to buy the residential plots of 250 sq. yards in Precinct 34.
Looking for best property rates and latest deals in Bahria Town Karachi, stay in touch with Universal Property Network