Reasonable Plots of 500 Sq. Yards In Bahria Town Karachi- Attractive Opportunity For Investors
by UPN
May 23, 2019
0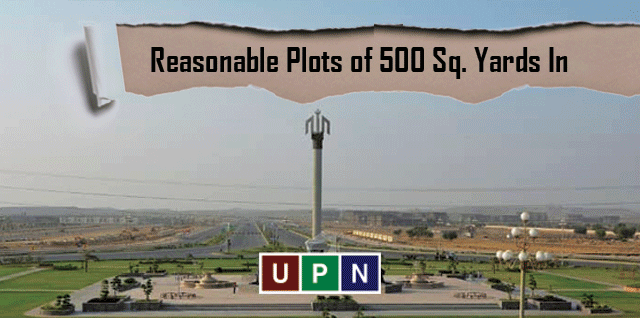 After many ups and downs, now Bahria Town Karachi is emerging once again as the only one most attractive housing project in the country. This largest housing community is considered the unique one for the availability of multiple options at various prices.
These days, investors from all around the country and also overseas investors are showing their keen interest in buying property in Bahria Town Karachi. The society comprises of sub-projects and many precincts but, the entire project is wonderfully designed that each precinct and subproject has its own unique market value.
As Bahria Town Karachi is offering various options for dream residence and profitable investment, so today, UPN is bringing to you the latest updates of reasonable plots of 500 sq. yards. The demand of 500 sq. yards plots is really very high in Precinct 27 A and also in Precinct 29. Both these precincts are positioned alongside the major attractions of Bahria Town Karachi that appeals more to buyers. Further details are given below:
Location Details & Surrounded Attractions
Located on the prime location these two precincts are getting popularity day by day. The location of Precinct 27A and Precinct 29 is a contributing factor for value addition. Precinct 27A is ideally located in the center of Bahria Town Karachi facing Golf City. It is also linked to 400-ft Jinnah Avenue. However, Precinct 29 is positioned alongside the boundary wall and adjoining to Jinnah Avenue from one side. Some of the main attractions near to these two precincts are Grand Jamia Mosque, Main commercial area, Dancing Fountain and a well-known Five Star Hotel.
Development Status & Possession Update
The latest updates about these two precincts have confirmed that almost all the development work in Precinct 29 is done however, the development work in Precinct 27A is also moving at the satisfactory pace. Bahria Administration has not yet announced the possession, but it is expected that the possession will be soon handover. Latest development and the possession updates ensure that soon these precincts will be ready to build your dream residence.
Reasonable Prices & Right Time to Invest
The plots of 500 sq. yards are quite reasonable in Precinct 29 and 27A. These 500 sq. yards plots are available in these precincts in Rs. 70 Lacs to Rs. 90 Lacs which is comparatively less than the plots of 500 sq. yards in many precincts. So, it is the right time for investors and buyers to avail this opportunity by saving 30 to 40 lac on the same land that is available at high rates in the other precincts of Bahria Town Karachi. Soon the possession of these two precincts will be announced and that will definitely rise up the prices of these plots. The investment in these plots will have fairly good profit potential. Precinct 29 and 27A both are equally suitable for comfortable and peaceful residency as well as mid-term investment.
For any further details and information, contact Universal Property Network.