Boundary Wall In Bahria Town Karachi & Different Precincts – Latest Details & Updates On Current Situations
by UPN
May 26, 2019
0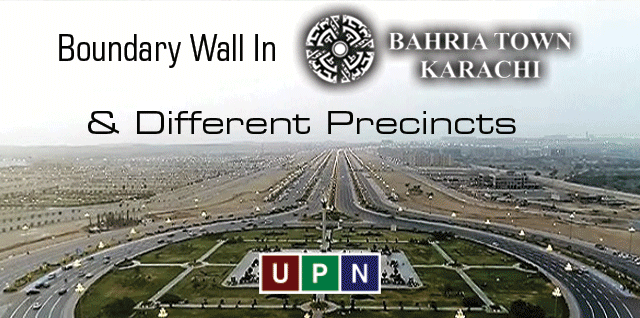 Bahria Town Karachi is the largest and the only housing project of the country in which the demand of plots, apartments and houses is increasing day by day. The development work of many precincts is completed so far. But after the final verdict on Land Acquisition Case, from the Supreme Court of Pakistan Bahria Town Private limited is focusing on the construction of a new boundary wall. Construction of Boundary Wall in Bahria Town Karachi has created panic situation in the market.
Boundary Wall & Concerns Of Buyers
The basic purpose of this boundary wall is to define its clear premises and legal land. As the construction work of this boundary wall is under process and at the same time, many of our regular clients are complaining that their plots which they have bought in different precincts seem to be outside of the boundary wall.
First of all, we would like to say that please remain calm as the administration of Bahria Town Karachi is looking into the matter and it is clear that they will soon reach a final decision.  Buyers have raised their demands to deliver what they have been actually promised with or relocation/compensation.  And even some of the concerned buyers had also submitted the refund applications.
In the light of previous track record of Bahria Town Karachi, the administration will accommodate the affectees with the same category of plots at another location, will refund them, or will also provide the option to merge the investment in any other property. As we are also waiting for the final announcement from the management to stay in touch and we will definitely update as soon as any confirmation is made by the administration.
Precincts which have been affected will be out of boundary and precincts with clear legal status will be within Bahria Town Boundary wall.
Details of precincts which are out of Boundary wall are mentioned below:
Precinct 32 A
Precinct 32 B
Precinct 32 C
Precinct 32 D
Precinct 33 A
Precinct 33 B
Precinct 33 C
Precinct 33 D
Precinct 29  A
Precinct 29 B
Precinct 29 D
Bahria Sports City
Precinct 40 (Partial)
Precinct 41
Precinct 42
Precinct 43
Precinct 44
Precinct 45
Bahria Paradise
Precinct 47 (Few streets are falling outside the boundary wall )
Precinct 46 (With Go Kart area is outside)
Precinct 48 (Partial)
Precinct 49
Precinct 52
Precinct 53
Precinct 51
Precinct 54
Precinct 56
Precinct 57
Precinct 58
Note : The construction work of Boundary wall of Bahria Town Karachi is not completed yet, UPN will keep you update regarding its development.
.