SQ Cloth Market Bahria Town Karachi
by UPN
November 17, 2020
0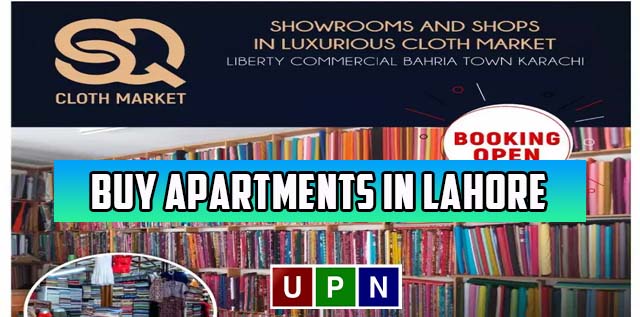 SQ Cloth Market Bahria Town Karachi is the first of its kind market in the place. It's a thoughtfully planned cloth market where you can easily find a variety of clothes you have been looking for. SQ Cloth Market is going to a place where you will have a huge variety of clothes, from the most expensive to the cheapest in prices but with the best quality. Here will be the cloth shops of famous brands and the small shops for matching, laces and other accessories. In other words, SQ Cloth Market is a one-stop solution to all your cloth needs.
As the name depicts, SQ Cloth Market is a project by Ali Saqlain Real Estate and Developers. It's a newly announced project with a wide range of shops available for sale. You can also buy showrooms in installments. Located ideally in the heart of Bahria Town Karachi, this project will get huge success, especially for its good location.
SQ Cloth Market – Ideal Location
This first-ever cloth market is located beautifully in the heart of Bahria Town Karachi near Theme Park. SQ Cloth Market is planned on plot numbers 77, 78, 79 and 80. SQ Cloth Market enjoyed the ideal location on Main Jinnah Avenue and surrounded by so many attractions such as Imtiaz Super Store is located at its back, Grand Jamia Mosque is at a short distance. At the same time, Ali Villa is also close to it.
Most importantly, it is located in the proximity of Theme Park, Bahria Town Head Office, and Bahria Hospital. This project's location is very impressive as it is easy for people to access it and have many other attractions nearby.
SQ Cloth Market – Project Plan
It's a high-rise building project with a total of 12 floors in a building. All these floors have easy access to cargo lift, lifts and escalators. SQ Cloth Market offers you an opportunity to buy the best retail outlets and showrooms for sale in it. Not only this, but this project is also planned with a food court. Also, there will be washrooms on every floor for males and females.
The prices vary from floor and location vice, the shops located on the 2nd floor have a high price while the ones found on the 12th floor have comparatively less cost.
SQ Cloth Market – Properties for Sale
A wide range of shops is planned in SQ Cloth Market Bahria Town Karachi to cater to every investor's needs. Shops for sale in SQ Cloth Market are available in size range of 165 sq ft to 370 sq ft. The total number of shops designed in this market is 468. Shops are available in standard, corner, corner facing lobby and standard facing theme park categories.
SQ Cloth Market – Prices and Payment Plan
The shop prices in SQ Cloth Market start from 15 lac to 1 crore.  These prices are different as per size and location. However, the shops located on the 2nd floor will cost you high compared to the shops available on the upper floors. All these shops are offered on a flexible payment plan so that everyone can easily buy his desired shops confidently. The shops' booking starts from 7 lacs while the monthly installment is from 14,000 to 60,000 depending on the price.
SQ Cloth Market – Completion and Possession
SQ Cloth Market will hopefully completely construct within two years, and possession will be handover after it.
Merge Your Files Option
SQ Cloth Market also provides you with the facility to merge your Bahria Town disputed/non-delivered files in it. Terms and conditions apply.
What to Expect?
SQ Cloth Market is offering shops at affordable prices along with a convenient payment plan. Once the development work completes and it has become operational, the costs will get doubled. Investing in SQ Cloth Market can be profitable for everyone; however, it is especially offering a chance to make a worthwhile investment for medium-scale investors.