Tips for Buying Homes, Villas and Apartments in Bahria Town Karachi
by UPN
May 9, 2018
0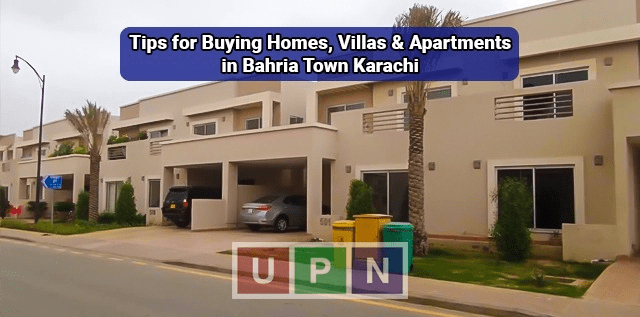 As Bahria Town Karachi is now on way to the completion phase, inhabitation is expected to rise in the upcoming months. Buyers are now showing interest to purchase ready-to-move-in properties which includes homes, villas, flats and apartments. With the passage of time, a rise in demand of these built properties in Bahria Town Karachi will be witnessed. Therefore, it is ideal time to buy these constructed properties at reasonable prices. In order to get these built properties on minimum rates, some buyers often overlook key points. What are those tips and suggestions which must be remembered by buyers are detailed under.
Must Visit the Site First 
For buying a built property in Bahria Town Karachi, the first and foremost step should be visit of the actual site. The buyer must ask estate agent to take him to the site area to see and confirm that the property is on ground. In case of overseas Pakistanis, someone else must visit on his/her behalf to see the property and then finalize the matters.
Development Status
All these buyers should prefer to buy ready-to-move-in properties or those which are under construction. Development status of these built properties must be satisfactory and in any case, these villas/homes/flats/apartments must practically exist on site. At least grey structure of these properties must be in process.
Properties with Possession
Properties with possession or where it is to be announced soon are always preferred in buying. Buyer must try to get those villas/flats/homes where keys have been delivered or going to be delivered very soon. The area where possession is available, inhabitation keeps increasing in not time.
Overall Location
The overall location of the area and positioning of your property must be good enough if prime location properties are quite expensive or not available. All buyers must be very careful about location, villa number, house number and flat number they are purchasing. Those who are interested to buy un-balloted villas/flats are advised to increase their budget a bit get property with number.
For more information and latest updates, please keep visiting Universal Property Network (UPN).