Top 3 Reasons to Choose Bahria Town Karachi
by UPN
July 12, 2021
0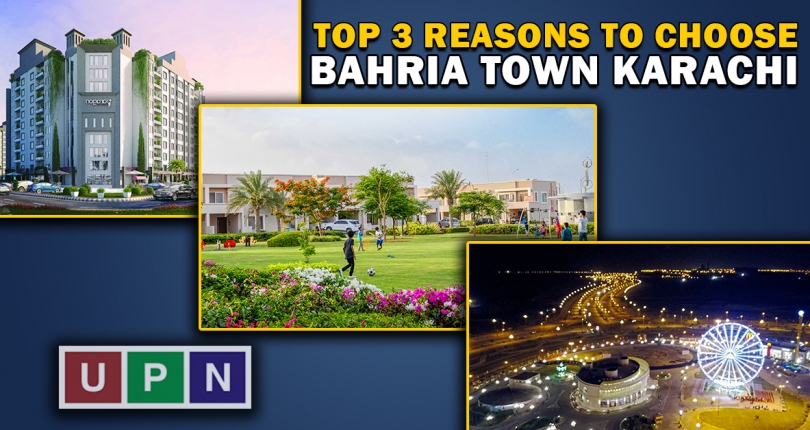 Bahria Town Karachi is undoubted the first housing project popular since its inception. It's a mega-development, a unique and exclusive gated community full of luxuries and comforts. This Bahria Town in Karachi is full of amenities, attractions, and opportunities. It has a wide range of properties ideal for investment and residential requirements. But still, some people usually ask that why they should invest in Bahria Town Karachi? Why they prefer living in Bahria Town Karachi? What are the reasons to choose Bahria Town Karachi only?
If you also have any of these questions in your mind, please keep on reading. We hope this latest write-up will help you in finding solid reasons to choose Bahria Town Karachi.
Reasons to Choose Bahria Town Karachi
Not Part of 3rd World County
Bahria Town Karachi is an international standard housing project where you will not have any:
Electricity/Load Shedding Issues
No Sewerage Issues
No Floods after Heavy Rains
Yes, Bahria Town Karachi is a load shedding free zone. There are no electricity issues in this society. Bahria Town Pvt. Ltd is providing a 24/7 uninterrupted supply of electricity to its residents of Bahria Town Karachi. There is a proper and maintained sewerage system. So, people living in Bahria Town have no sewerage-related issues. One of the reasons to choose Bahria Town Karachi is the pleasure of heavy rains. There are no floods or backwater after heavy rains. Your life in Bahria Town Karachi will be comfortable, and you will surely enjoy it.
Perks of Living in Bahria Town Karachi
Economical Prices
Undoubtedly, the properties for sale in Bahria Town Karachi are economical. Also, a wide range of properties is available at different price ranges. For example, a 125 sq yards plot is available at the price of 18 lacs as well as 40 lacs. Similarly, a 250 sq yards plot will cost you around 35 lacs as well as 70 lacs. So, you can easily buy your desired plot as per your requirements and budget. In simple, the choice is yours!
Foolproof Security and Healthy Lifestyle
Bahria Town is the most peaceful place to live in Karachi. This society offers 24/7 high security to its residents. There are well-trained security personnel, CCTV Cameras, and other security devices installed to make sure that everything is perfect. These high-security measures provide the desired peace of mind everyone wants.
Bahria Town Karachi is full of parks and attractions. Also, it's a green and clean housing society with eye-catching beauty. There is a proper cleaning system in this society. Moreover, you will find huge numbers of plants, trees, parks, and landscapes in Bahria Town that not only add beauty but provides a heart-winning healthy environment.
So, that all are the top reasons to choose Bahria Town Karachi. Don't hesitate to contact us to know the latest prices of property and other investment analyses!
Contact us for further assistance.
Please contact Universal Property Network  For More Information click here or visit our youtube channel further assistance