Top Attractions & Unique Features of Bahria Town Karachi – Complete Details
by UPN
April 23, 2019
0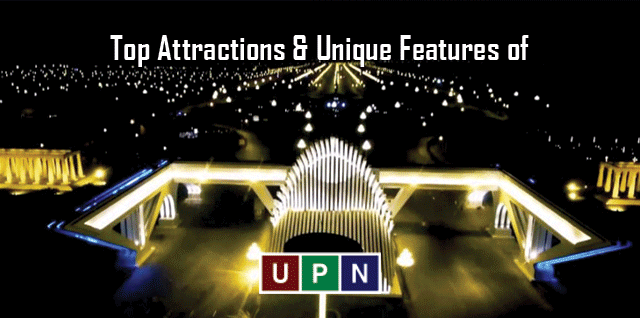 Bahria Town Karachi is the only largest housing community of the country that is offering all the modern day facilities and unique features of International Standard Living in it. The project is beautifully designed to provide its residents with a complete and lifetime living experience. To attract more and more o this fabulous project, Bahria Town has started building replicas of significant monuments of the world including Statue of Liberty and Taj Mahal.  Besides just copying foreign monuments, Bahria town Karachi has some unique ideas, appealing Landmarks and top attractions like wide Cricket Stadiums, Themed Park,  Hyatt Regency Hotel, Grand Jamia Mosque, Day Night Safari, outstanding Golf Courses, and world-class hospitals. Here we are going to share with you some of the unique details of these attractive features and top attractions of Bahria Town Karachi.
Rafi Cricket Stadium
Once it's completely built, Rafi Cricket Stadium will become Pakistan's biggest Cricket Stadium. It is situated in Precinct 34, Bahria Sports city and can accommodate 50,000 cricket freaks. To give a completely new definition to the cricket stadium, the master plan has gymnasiums, pools, and most of all cricket academy to train youngsters. Rafi Cricket Stadium was inaugurated in April 2017, and the construction work is supposed to be completed by 2019. This significant feature of Bahria Town Karachi guarantees a complete and joyful lifestyle.
Hyatt Regency Hotel
Hyatt Regency is a franchiser chain of a famous hotel that is working globally and now a part of Bahria Town Karachi. It is designed with 200 guest rooms, lobby, 3-meal restaurant and 1600 Square meters of meeting spaces. This grand hotel is supposed to be launch in 2023 and will be located in Bahria Hills Karachi near Precinct 19. It is clear that after the inauguration, it will become a prominent attraction of Bahria Town Karachi.
Day and Night Safari
Another great Benchmark in Bahria Town Karachi is Day and Night Safari.  This is beautifully located in Precinct 9 & Precinct 5. Bahria Town Safari is not a place that let you enjoy at day time only but it is a place in which you can safari at night time too. Night Safari Park Bahria Karachi is definitely an exciting opportunity for adventurers to move around the wildlife at night as well. This prominent attraction of Bahria Town Karachi is another big reason for the investment of families in this project.
Bahria Adventura
Bahria Adventura at Bahria Town Karachi has been honored of being Pakistan's first International Themed Park. It has first-rate thrilling rides. This prominent attraction of Bahria Town is now open and planned with the setting of Aladdin and Sindbad. Water rides, Roller Coaster, Ferris wheel and Castles, become a source of happiness and joy for little champs.
Saudi German Hospital
Bahria Town Karachi has signed the contract with Saudi German hospital in June 2015. The work on this International hospital is under construction at Precinct 3. With the mutual collaboration, The Bait-ul-Battarjee group and Bahria Town are directing to revolutionize medical facilities in Pakistan. With all the latest facilities, it will be the top medical and educational place in Bahria Town Karachi.
36-hole PGA Golf Course
It would be nothing wrong to term the lush green, landscaped Golf Course simply the crown jewel of Bahria Town Karachi. It is beautifully situated in Bahria Golf City Karachi, and surrounded by 18 lakes and 5-star International Standard Hotel; upon completion, it will be the best attraction of Bahria town Karachi.
Stay connected to Universal Property Network.